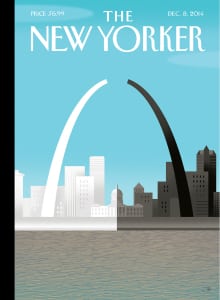 On Wednesday, The New Yorker's "Broken Arch," published on December 8, 2014, was named ASME's Cover of the Year. The illustration was developed by Bob Staake, and is a topical nod to the events that occurred in Ferguson, Mo. last year.
And Staake has a personal connection to the illustration.
"I lived in St. Louis for 17 years, moving there from Los Angeles," he tells The Washington Post. "It's a beautiful city, but it didn't take me long for me to perceive its 'ugly' racial underbelly—which is not uncommon in many other major American cities," Staake adds.
The cover focuses on the power of polarization between different communities and races. With more than 100 print magazines submitting 270 covers to compete in 10 categories, Staake originally won in ASME's News and Politics category. The ninth annual ASME Best Cover Contest was open to all consumer print magazines published in the 2014 calendar year. Sid Holt, chief executive of ASME, announced the winners.
Here are the other categorical winners:
Sports and Adventure: ESPN The Magazine, October 13, 2014
Fashion and Beauty: Harper's Bazaar, March 2014
Business and Technology: The Atlantic, November 2014
Family and Home: FamilyFun, August 2014
Entertainment and Celebrity: The New York Times Magazine, September 14, 2014
Science and Nature: New York, June 9-15, 2014
Lifestyle: Men's Health, November 2014
Brainiest: Bloomberg Businessweek, August 4, 2014
Most Delicious: Bon Appétit, June 2014