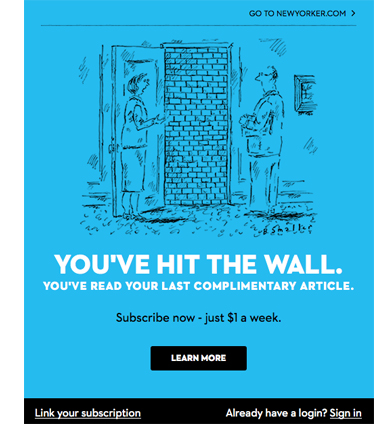 The New Yorker launched its revamped paywall today. An announcement from the editors alerted readers that the metered system will kick in after six article reads in a calendar month. Existing subscribers already have unlimited access.
The metered paywall follows an open free-for-all that began in July when the previous paywall, which signaled premium content with blue lock icons, was temporarily removed after a major site relaunch.
The three-month open access period yielded some surprising results. Subscriptions actually increased during that phase. More content exposure translated to more subscriptions.
Time spent also increased, about 23 percent, and weekend traffic bumped up 20 percent as well.
Nevertheless, the metered system took effect today. " We've always had a paywall, this is just an easier-to-use, more logical one," says a spokesperson. "Before, blue locks denoted whether a magazine story was available to everyone or to subscribers only. We found that it wasn't clear to readers exactly what that meant, or why we had chosen to 'lock' something. Under this new model, our audience is deciding exactly what they want to read. It's a better experience for our readers, and our advertisers."
A warning/promotional message appears after half of the complimentary articles are read. Subscriptions start at $12 for 12 weeks of print, digital-only or the bundle. From there it's $69.99/year for the print/digital bundle or $59.99 for either print or digital.