The New Yorker Launches Anonymous Source Tip Box Dubbed Strongbox

Double-blind, open source system created by the late Aaron Swartz.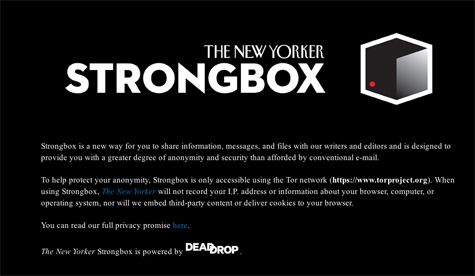 The New Yorker launched today an anonymous tip box and file sharing system called Strongbox. The technology is open source and was coded by the late Aaron Swartz, co-developer of RSS and social-based news service Reddit, and allows sources to anonymously submit files and tips to New Yorker reporters.
The idea for Strongbox originated with Kevin Poulsen, an editor at Wired, who was interested in creating a way for writers to communicate with sources and share highly sensitive materials over something more secure than email.
In his blog post about the creation and launch of Strongbox, Poulsen notes that the usual lines of communication are easily compromised by anyone who needs to identify a media brand's information source—a sentiment that's even more poignant now given the recent developments between the Associated Press and the Justice Department.
"There's a growing technology gap: phone records, e-mail, computer forensics, and outright hacking are valuable weapons for anyone looking to identify a journalist's source. With some exceptions, the press has done little to keep pace: our information-security efforts tend to gravitate toward the parts of our infrastructure that accept credit cards."
The Strongbox premise allows a source to anonymously submit information and/or files to The New Yorker. Editors can only leave return messages in Strongbox, where the source can access them using a codename.
For more on how the process works, The New Yorker has this handy diagram.
The code behind Strongbox is called DeadDrop and is open source and available for any outlet to use and modify. More info on DeadDrop can be found here.
Meet the Author
---