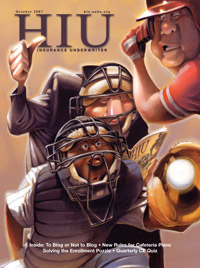 Baseball is the cover theme of HIU (Health Insurance Underwriter) magazine for no reason other than that October is a big month for the sport.
"There's no deep meaning behind the cover," says freelance illustrator Bruce MacPherson. "It may be the only light part of the whole thing."
Since MacPherson started working with HIU, which serves the National Association of Health Underwriters, the magazine's covers have had very little to do with its content. "I don't read it. I flip through it," he says. It's an intentionally light-hearted approach.
"The magazine is about health insurance," says managing editor Martin Carr. "Sometimes that just doesn't translate well into art. How many times can you see people sitting around a conference room on a cover?"
When we passed this cover along for commentary, we got mixed response. "I like seeing illustration on the cover. It adds personality to a topic," said Brian Taylor, design director for National Defense magazine. Donathan Salkaln, art director at Successful Meetings, said the illustration was wonderful.
But, aesthetics aside, the cover has issues. "The concept is out of left field, unless it's just trying to be self-promoting," said Salkaln.
The image of someone reading HIU while he or she is supposed to be working-in this case, the umpire-is an ongoing, inside joke. "Readers are distracted by their own magazine in the midst of other tasks. People appreciate that, for better or worse," says MacPherson.
MacPherson says readers are "in on" the concept, partly because it's an association mag. "It's a closed audience," he says. "There's kind of a 'homey' feel."
Association or not, Taylor says, "There should be a connection. I find it misleading if the cover isn't representational of the editorial content inside."
Still, when your readers are members, not just subscribers or purchasers at newsstand, that might imply a sort of dedication that allows for a little more fun. It seems to work for HIU; Carr says readers are vocal about how much they like the new approach to covers since they started with it a few years ago.