New Yorker Festival Thrills, Confuses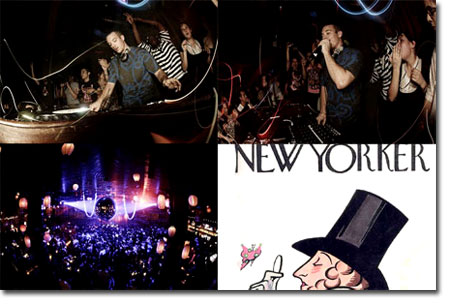 First they get a You Tube account. Now the New Yorker is throwing hip-hop dance parties at Hiro and hosting discussions with the writing team behind Knocked Up and Superbad. Such was the scene at the fifth annual New Yorker Festival, bidding to become the most eclectic literary festival anywhere, over the weekend. For starters, a report
from the Sasha Frere-Jones-hosted dance party Saturday:
It's really unlikely that Sasha Frere-Jones meant to distress the large number of old people who found themselves, befuddlingly, at Hiro Ballroom on Friday night for his New Yorker Dance Party (part of the New Yorker Festival). Sadly, Frere-Jones's lack of malice is probably scarce consolation to retiree Richard from the Upper West Side, a loyal New Yorker reader. Richard, who admitted his unfamiliarity with the stylings of guest Hollertronix D.J. Diplo, bought tickets to the party because all the New Yorker Festival panel discussions were sold out. No, he wasn't having any fun. "And do you know how much they're charging for this?" He gestured with his Grey Goose Festini. "Ten dollars!"
Then there was the sold-out talk with Seth Rogen-Judd Apatow-two guys responsible for introducing the phrase "I'll be like the Iron Chef of pounding vag" to the American public-being "fêted as though they were E.B. White and James Thurber":
The appearance of Judd Apatow and Seth Rogen was the New Yorker's final event, the title bout, the sold-out feature presentation, a fact that Rogen and Apatow, somewhat justifiably, found hilarious. During the Q&A period at the end, Apatow said, "It would be so cool if Philip Roth walked to the mike right now." To which Rogen added, "And said, 'Why are you here?'"
Raving eclecticism and crude material aside, I'm guessing the New Yorker's event not only generates a ton of revenue (figures won't be available until the end of the week, according to a spokesperson for the magazine) but generates handfuls of new subscribers. And, if nothing else, music heads now associate thumping hip-hop with the 82-year-old New Yorker-an unquantifiable metric.
Meet the Author
---