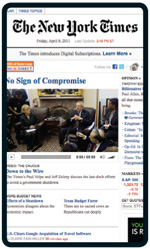 NYT lauched a metered pay wall that allows 20 article views a month before payment subscription is required. This is one of the largest tests to date for the paid content model.
The New York Times has entered paywall territory. Officially launched in the United States and globally on March 28th (Canada saw it arrive March 17th  in order for the publication to test customer service), this is one of the biggest efforts to date of a major publisher rolling over to a paid digital content model.
Interested subscribers are offered three options: All Digital Access through the Web site, tablet and smartphone costs $35 a month; for Web site and tablet access, readers are charged $20 monthly; and Web and smartphone access is available for $15 a month. New subscribers in the New York area are being offered a discounted All Digital Access price of $23.25.
The New York Times has also partnered with Apple, creating an app for subscription purchase through the App Store.
Print subscribers still receive free access to the Web site and New York Times app offerings. International Herald Tribune subscribers will also have free access to  NYTimes.com.
A letter addressed to readers which appeared in The Times on March 17th, the day of the paywall announcement, said, "It's an important step that we hope you will see as investment in The Times, one that will strengthen our ability to provide high-quality journalism to readers around the world and on any platform."
Modeled after the metered paywall that has served the Financial Times so well, non-paying readers are allowed 20 article views a month before being denied entry to the site without buying a subscription. However, readers entering through links provided through searches or social media will still be able to view articles.
In order to encourage readers to take the paywall leap, The Times announced a discounted initiative on April 6. For 26 weeks, subscribers are offered any one of the three digital subscription options for a 50 percent discount. The page describing the discount on The Times Web site says, "Unrivaled coverage. Unlimited access… so why be limited to 20 articles a month?"
The homepage and all section front articles will remain free of charge for all NYTimes.com users.

VITAL STATS: Estimates claim it cost The New York Times $25 million to create their subscription platform.