New York Times Publisher on Whether There Will Be a Print Edition in 10 Years: 'We Can't Care'

Notes on 'Pinch' at Dana Point.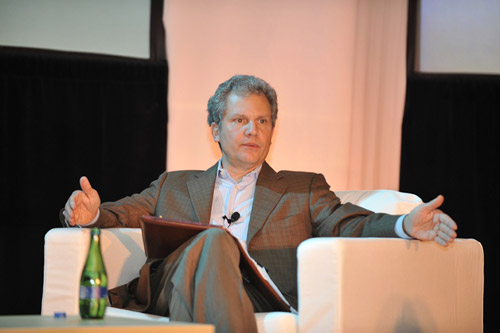 Arthur Sulzberger, Jr., chairman and publisher of New York Times Company, delivered the keynote address yesterday at WebbyConnect, a three-day summit on the future of media, which was organized by the producers of the Webby Awards and held in Dana Point, California.
Sulzberger, sometimes referred to by the nickname "Pinch," gave an interesting answer to the "Will there be a print edition of the New York Times in 10 years?" question:
"Let's start with the fact that the heart of the answer must be we can't care. We do care; I care very much. But we must be where people want us for our information. It's the thought of cannibalizing yourself before somebody else cannibalizes you. So that's one answer."
He also articulated what Andrew Sullivan and others (I'll put myself in there) have been preaching about the need to link to competitors:
"Embracing the hyperlink ethos of the Web to a degree not seen before, news organizations are becoming more comfortable linking to competitors acting in effect like aggregators. Fundamentally we are addressing a common desire for comprehensiveness. The desire of people to find the news and information that they want from their most trusted sources. The era of the walled garden is over."
More from the Webby blog here …
Meet the Author
---