New York Times to Offer Publisher Platform for Making iPad, iPhone Apps

Newspaper publisher jumps into application development business.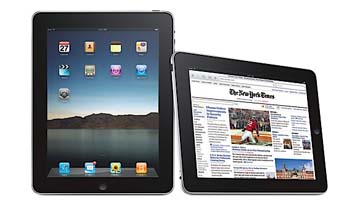 The New York Times is gearing up to offer publishers and other media groups a platform by which they will be able to deliver their content on Apple's iPad and iPhone devices without needing to develop an application themselves.
The forthcoming platform, called Press Engine, is being designed by the NYT's News Services in collaboration with an as-yet unnamed third party vendor. It's expected to become available sometime during the fourth quarter this year.
"Press Engine is an alternative for publishers that choose not to design applications in-house, which allows them to leverage The Times's experience in building acclaimed digital products," says News Services director Christine Topalian. "The framework of the application will be set; clients may choose certain branding elements, including font, color and depth of header, to customize their applications."
Topalian says the platform will take content feeds from clients and push them into the application framework. The Times will then deliver a completed application product that the publisher then submits to Apple's App Store.
So far, the Telegraph Media Group and A.H. Belo Corporation-owned The Dallas Morning News, The Providence Journal and The Press-Enterprise have signed up as the platform's first users. "The pace of change in digital technology means that media companies will increasingly be looking at ways of collaborating in order to create world-class consumer experiences," Edward Roussel, digital editor at the Telegraph Media Group, says in a statement. "The New York Times has a global reputation for innovation and excellence in technology, and Press Engine offers an opportunity to harness that expertise to showcase Telegraph content on iPad and iPhone devices."
Publishers will control and own any advertising and subscription revenue on their applications, the NYT says. To utilize the Press Engine platform, clients will pay a one-time license fee as well as a monthly maintenance fee.  Publishers also will be able to opt in to future updates to the template for a fee. Topalian says the New York Times is not yet disclosing specifics about costs. 
The New York Times launched its own app for the iPad back in April.
Meet the Author
---