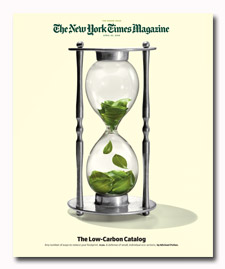 The New York Times Magazine is set to publish its first-ever "green issue"—a "low-carbon catalog" of ideas for environmentally-conscious living boasting a slew of new advertisers—on Sunday. But, in what's becoming increasingly common for magazines that put out "green issues"—and increasingly irritating to environmental bloggers and "green publishing" experts that monitor them—it was not printed on recycled paper.
"That would be nice," Gerald Marzorati, the magazine's editor, told FOLIO: Friday. "Our printing is a very particular method, and these machines use a very old, not terribly good paper stock. It just wasn't feasible." But Marzorati hopes the issue's message—"micro-level" things individuals can do to create a better environment—will outweigh its carbon footprint.
The New York Times says the advertiser response was "tremendous." The issue carries 46 advertising pages.
'Do as I Say'
Many magazines have published "green issues" in recent years, and more than a few have come under fire for preaching "green" without practicing it. Vanity Fair—which published its third annual green issue this month—drew harsh criticism for failing to use recycled paper.
"There was no reason to expect that Condé Nast would actually display some sort of responsible environmental citizenship in the production of its third annual "green" issue for Vanity Fair," Frank Locantore wrote in a blog post on FOLIOMag.com. "While they have a right to run their business as they see fit, they must also take responsibility for their lack of commitment to protecting the environment."
While other magazines like Shape, Fast Company, Inc. and Every Day With Rachael Ray have made important strides toward environmentally-responsible publishing, Locantore wrote, Vanity Fair and Conde Nast have only "talked green" in their articles.
Some 69 percent of Time Inc.'s paper comes from "sustainability managed forests," according to Time magazine editor Richard Stengel. (The magazine's latest issue has drawn criticism not from environmentalists, but from war veterans up in arms over its comparison of the battle over global warming to Iwo Jima.)
"Where is the introspection and leadership?" Locantore wrote. "Who within CN and VF are pointing out that they themselves should be making an effort to reduce climate change, solid waste, deforestation and water and air pollution?"