The New York Times' (and Your) Secret Weapon

It's context.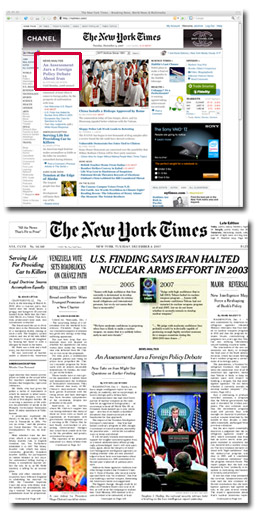 I looked at NYTimes.com briefly this morning before leaving for work. Nothing interesting. Some bishops.
Then I got to the Cold Spring Harbor Deli and glanced at the physical print edition of the Times and was surprised to see the headlines on Iran's nuclear program screaming out at me. READ ME, it said. This is IMPORTANT!
And I did read it. And it was important. If I only read the Times online, it would have just flown right by. Print is really good at providing context. The Internet is not.
If you are selling print, you need to pay attention to these examples as they come up and use them to hammer home the unique benefits of print.
I'm not against online–we sell tons of online products. I just feel the jump to online marketing has gone overboard and there are few voices reminding us why and how print still works.
Meet the Author
---