New York Times Accepts Nielsen as Sole Advertiser for August Issue of Play

Single-sponsorship a first for a Times editorial product.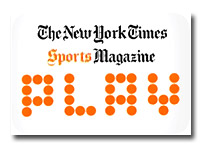 In a first, the New York Times today announced that it has accepted Nielsen as the sole advertiser for a special August issue of Play, the Times' quarterly sports magazine.
The sponsored issue—dedicated to the 2008 Summer Olympics in Beijing—marks the first time the paper has accepted a sole advertiser for any editorial product. The Times will publish the issue on August 3 in addition to its four scheduled issues in 2008.
Play is distributed in the Sunday New York Times, which has a circulation of 1.5 million.
The move is part of a multiplatform global brand awareness campaign for Nielsen. The Nielsen Company, formerly VNU, was re-branded in 2007.
Single-sponsor issues, while groundbreaking for the Times, are nothing new for the magazine industry. In 2005, the New Yorker made headlines for its single-sponsored Target issue—which drew heavy criticism for blurring the lines between advertising and editorial.
Other magazines, such as Time and People, have done so without controversy.
Meet the Author
---