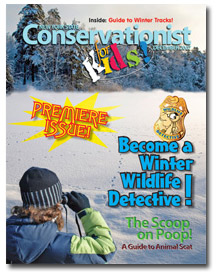 The New York state Department of Environmental Conservation has announced its plan to launch a nature magazine for kids called Conservationist for Kids.
The magazine, which is to be published three times per year, will be distributed to fourth-grade classrooms statewide. For the launch issue, the magazine will be sent to regular subscribers of the DEC's recently redesigned Conservationist magazine.
"In a world full of iPods, Xboxes and 500-channel digital cable, our youngsters are spending more and more time indoors on the couch, disconnected from the natural world," New York state DEC commissioner Pete Grannis said in a statement. "Conservationist for Kids gives children across New York a reason to venture outside, offering fun and informative activities that we hope will spark a connection and concern for nature that lasts a lifetime."
In addition to featuring information and activities for kids, Conservationist for Kids will include a how-to teacher supplement for using the magazine to enhance classroom learning. Idaho is the only other state to have an outdoor kids magazine (though it's subscription based) that's mailed to classrooms.