New York Media Uses Real Time Analytics to Gain 10 Million Uniques

Bounce rates fall 56 percent while traffic doubles for Vulture.com.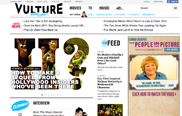 As digital properties look to grow user rates, more and more often companies are relying on additional tools to monitor audiences and create user relationships. New York Media has utilized the Adobe Online Marketing Suite, powered by Omniture, to do just that.
New York Media began to use the Adobe Suite in 2007 for real time analytical tracking. In October 2010, New York Media saw three million unique users visit Vulture.com after relaunching in September 2010. Currently, the digital properties which include NYMag.com, blogs Daily Intel and The Cut, Vulture.com and Grubstreet.com, as well as Menupages.com, see up to 10 million uniques a month. The blog links are on NYMag.com's home page, and are listed on a drop down menu under "Blogs" in the top left of NYMag.com's home screen.
Grub Street can also be found on the home page of MenuPages.
Jon Tesser, manager of audience analytics with New York Media, explains that the Adobe Suite has allowed NY Media "to segment the audience in ways we haven't been able to do before." Tesser is able to see regular visitors and what they are clicking on, as well as to identify where new visitors are entering NY Media's sites from (be it a Google search, a social media share or elsewhere) and what they're doing.
Tesser says, "By understanding that, we can create more content from what they're looking at."
After more targeted content is created, Tesser says, "We're watching the numbers to see if we're increasing the number of new visitors who are converted to return visitors, which is our holy grail."
As well as creating content based on user behavior, Tesser says the analysis also lends itself to targeted content creation based on outside sources.
He says, "We'll see that Google news is about to provide a story with a big hit; I'll send something out to our editorial team right away. They'll try to optimize the links that are getting the big hit from the Huffington Post or another source, and they'll provide related links."
Reporting time has also been reduced by 98 percent, due to an Adobe Suite feature called the Report Builder. By changing two dynamic data fields in the Omniture system and clicking "refresh", the system will update a report without having to enter a new set of numbers.
Meanwhile, Vulture.com has seen bounce rates reduced by 56 percent and traffic rates to the site double.
Meet the Author
---