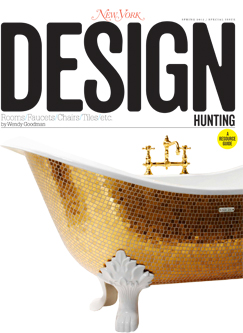 New York magazine will debut its second stand-alone print spin-off this spring. A shelter title, New York Design Hunting's [cover mock-up pictured, right] launch will coincide with the International Contemporary Furniture Fair, running from May 19-22 at the Javits Center in New York City.
New York publisher Larry Burstein cites a 20 percent increase in interior design and home advertising from 2010 to 2011 as one launch motivation. "But more than that, we have a very strong voice in the design community through New York design editor Wendy Goodman. We do two design issues a year in the magazine; [Goodman] also does a 'Great Room' feature throughout the year, and the Design Hunting feature and newsletter. We felt we could do even more," says Burstein.
Burstein admits the sheltered sector is a crowded one. "The market is filled with a lot of control circulation publications, and the regional editions of big shelter magazines like Architectural Digest and Elle Décor," he tells FOLIO:. "But none of them really have a voice; one thing New York has in huge amounts is voice."
Lauren DeCarlo, whose previous experience includes TheFeast.com, Manhattan magazine, Lucky and WWD, will be editing New York Design Hunting alongside Goodman.
The new title will follow in the footsteps of New York's bi-annual wedding magazine, as New York Design Hunting will not be sent to subscribers. Its initial rate base is 75,000, with 50 percent of New York Design Hunting's issues to be available on newsstands. The other half will be sold in design/trade outlets and in show rooms.
"We felt that if we could put something out there with Wendy's voice and the look of New York, it would be useful to design advertisers and design enthusiasts," says Burstein.