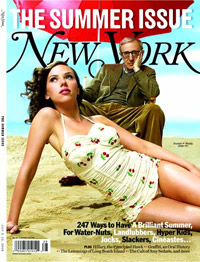 New York magazine's abrupt decision to abandon sex advertising is being applauded by the National Organization of Women-and criticized by the Village Voice.
In an odd move, the venerable, New Times-owned alternative weekly-which has long carried such advertising-issued a press release yesterday condemning New York for dropping the ads, which typically include phone numbers for female escorts commonly known to be fronts for prostitution. According to NOW, New York made $10,000 per week on the ads, which ran in the back pages of the magazine.
NOW New York chapter president Sonia Ossorio, whose protest led to the magazine's decision to drop the ads, said prostitution offered by such services is an open secret. "There's not anyone that doesn't know these ads are for prostitution," she said yesterday.
"With ads for sex tours that advertise 'have your own harem' and ads for massage parlors that promise 'accommodating Asian women' New York Magazine is the marketing arm of the organized crime world of prostitution and trafficking," read a note posted on the NOW Web site Monday. The group had planned to protest Thursday at the magazine's Lower Manhattan offices. Publisher Larry Burstein arranged a meeting with Ossorio Tuesday.
Within hours, the magazine decided to stop carrying the ads. "[We're] getting out of the sex business entirely," a spokeswoman for the magazine told Women's Wear Daily. "This is a full housecleaning."
In August, under public pressure from NOW, the New York Press-a competing alternative newspaper to the Village Voice-dropped sex ads from its pages. In March, Time Out New York pledged to not profit from trafficking, though the magazine still accepts ads from licensed massage parlors.
Added New York's spokeswoman: "The magazine is prospering now, so it's finally time to get out of a business we were never comfortable about."