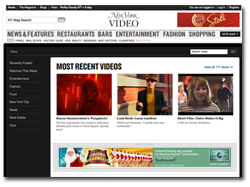 NYMag.com has increased both traffic and revenue since it partnered with Web 2.0 video curation platform Magnify.net back in April.
Previous to Magnify.net, New York's video platform The Feedroom managed around 1,200 videos over the
course of two years. Effective April 1, New York partnered with Magnify.net, which enabled them to integrate user-generated video, their own video, as well as video from alternate sources, while lessening the cost of producing original video.
Since then, NYMag.com has doubled the number of videos offered on the site, while upping video plays 43 percent for in-house produced content. Customer-produced video plays jumped
from 150,000 to 213,000, with average monthly video plays increasing more than twofold from 150,000 to 360,000,according to a Magnify.net release.
"The added traffic comes from two sources, the first is the added video views created by adding
discovered video to the site, which accounts for 40 percent of video plays," said New York general manager Michael Silberman in the release. "The second source of traffic is from videos produced by NYmag.com; this is the hidden benefit of Magnify's platform—it creates significant and measurable value."
Magnify.net CEO Steven Rosenbaum told FOLIO: (and Silberman confirmed) that New York has seen a 287 percent increase in ROI since it began with Magnify's platform about six months ago (this ROI increase does not include sponsorship revenue from Target, HSBC, and others). Magnify.net charges publishers on two levels, depending on traffic and size; the small to mid-sized enterprise fee is $2,500, while the large enterprise fee is $5,000. "There is also a traffic component on top of that," said Rosenbaum.
"The big impact has been to allow us to offer much more brand-appropriate video on the site and to drive more video views as a result," said Silberman. "We've been able to double the number of videos offered without any significant additional work. It fits very well into current workflow for our bloggers, editors and video producer. It's required no additional headcount."
NYmag.com sells pre-roll ads with created and licensed video content, and display banner ads on curated videos; however, they have not ventured into pre-roll. "The issue hasn't come up with advertisers," added Silberman.
In addition to NYMag.com, Magnify.net provides video platforms for publishers including Rodale's Bicycling, American Business Media, Mediaite.com, Readers
Digest's Taste of Home and Best You Health, and most recently, Dennis Publishing's The Week.