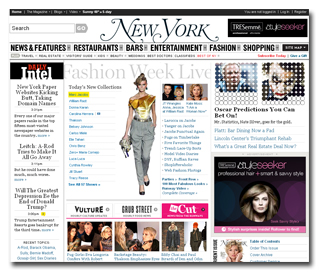 Magnify.net is expected to announce tomorrow a partnership with New York magazine's nymag.com to build and deploy a Web 2.0 video service. Magnify will build a custom video player and provide encoding, discovery and "curation."
The platform allows publishers to integrate user-generated video, their own video or video from alternate sources—and build a large collection of video content without the cost of producing all original video. Nymag.com has already made significant in-house investments in video (video.nymag.com). (It is currently served by platform provider The Feedroom in a partnership will expire in March.)
The partnership with Magnify will start April 1.
"The Magnify platform offers all the key player customization and video content management features we need for our own video production, plus the ability to aggregate and curate video from around the Web that fits our brand and our users' interests," said Michael Silberman, general manger of digital media for New York Media, New York Magazine's parent company. "Magnify will give our users and our advertisers a great new video experience."
The idea of curated video content is an emerging one. "That video can be sourced, and appropriate video published from both user submissions and the wider Web is one that is taking hold quickly for publishers across the Web," said Magnify.net CEO Steven Rosenbaum. Rosenbaum noted one current client, Reader's Digest's Taste of Home, provides 85 to 90 percent of its video content from outside sources.
For Paul Sweeting, editor at Reed Business Information's Content Agenda, there are "certain sources that we know produce a lot of videos that work for us, such as TechTicker and blip.tv, so we tend to draw on those a lot," he told FOLIO:. "We also group videos under specific topic areas to make them easier to find."
It also helps with the problem of advertisers shying away from user generated content. "Ad agencies we've spoken with say, 'We don't want to advertise on the same page as unreviewed user generated content,'" Rosenbaum said. But with curated video content, they are generally more comfortable doing so.
While Magnify declined to reveal the cost of the platform, Rosenbaum said that in all cases publishers are paying significantly below $10 per thousand pages.