New York Editor on Founder's Passing: 'American Journalism Wouldn't Be What It is Today'

Moss, others on Felker.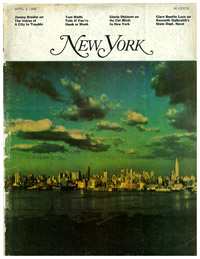 SEE RELATED: Magazine Pioneer Dies
Clay Felker, the founding editor of New York magazine, died today at his home in New York City. He was 82. New York's editor-in-chief Adam Moss sent over this statement:
American journalism would not be what it is today without Clay Felker, and neither would New York City. Those of us lucky enough to work in the house that he built are reminded everyday of the depth of his genius. He created a kind of magazine that had never been seen before, told a kind of story that had never been told. Nobody I have ever met in this business was as passionate a champion of talent, as relentlessly curious, or as successful in getting the world inside his head onto the magazine page. He changed the way we look at this city, and, in that sense, the way we live in it. All of us who practice journalism today carry Clay's legacy into everything we do, and we will never do it even half as well.
New York contributing editor Kurt Andersen's appreciation of Felker and his legacy is online here.

CNN, IHT, the New York Times and the AP have also posted obituaries.
Meet the Author
---