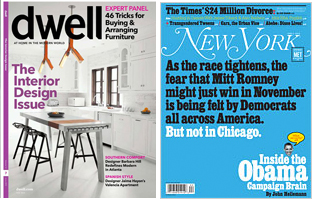 In a collaboration that will play out in person and in print, New York and Dwell partner to bring design to a greater audience. The partnership aims to expand both Dwell's and New York's footprints in the New York City design scene, as well as to aid the American Institute of Architects [AIA] in reaching the consumer market.
"At Dwell, we've been wanting to tap into a much bigger imprint in the world of New York design, and much of the design community is spending time in New York in October," says Dwell Media president Michela O'Connor Abrams. "We are creating an event with home tours [five in Manhattan, five in Brooklyn], talks and continuing education in certain show rooms."
New York Media publisher Larry Burstein echoes Dwell's desire for a broader audience while discussing his publication's motives in this partnership. "We've been looking for ways to grow our presence in this important vertical in the New York market when Dwell came along and said they were interested in building their presence here as well. Dwell has experience with home tours and other live events across the country."
New York's Wendy Goodman (who is at the helm of the recently launched one-off New York Design Hunting) will work with Dwell editor-in-chief Amanda Dameron on the still-untitled print magazine. Distribution totals around 150,000, with New York area subscribers receiving the special issue polybagged with Dwell's October issue and New York's September 24 edition.
As for the revenue model, O'Connor Abrams reinforces that potential sponsorship packages are "well-coordinated. We're not merchandising them, and we're not giving anything away from New York or Dwell to do this." Already, Grohe is committed as the official home tour sponsor. Current advertisers are being offered sponsorship opportunity, and new clients are being prospected.
Nancy Alonzo, director of digital & brand marketing with Dwell, discusses the collaborative process so far: "We've mapped out and matched up the counterparts. I've worked closely with the marketing team at New York; our sales teams have sat down in multiple sessions to hash through whose going to call on what types of accounts categorically and who has existing relationships. We've dove almost down- to-the-account level."
Overall, the goal of both the design events and the publication lead back to the consumer. "The AIA New York chapter have their signature event, and the Center for Architecture did programming, but they wanted to be larger. The goal is to not to have architects talk to each other, but have everyone come to New York and understand architecture in a very approachable way, not as a trade organization talking to itself," say O'Connor Abrams. "They wanted to work with two well-known media brands to raise the purview, as they couldn't do on their own."