New Vibe Finding its Rhythm

After shuttering, music magazine returns to its roots while expanding digitally.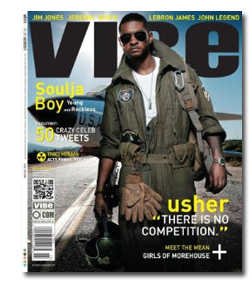 It's been about a year since Vibe magazine was relaunched by Uptown Media and private equity firm InterMedia Partners, which acquired the ailing music title in June 2009 after it was shut down by its former owner, the Wicks Group. Today, as the October/November issue hits newsstands this week, the magazine is striking a balance between returning to its roots while expanding the brand across platforms.
"When we assumed control of Vibe last year, one of our first priorities was to let everyone know that the brand is still strong and just as urgent to its consumers as ever," Uptown Media co-CEO Len Burnett, who helped launch Vibe in the early 1990s, tells FOLIO:. "We knew we needed to bring back the luster the book had lost over the years—not just the look and style but the edit content as well. Vibe became very hip-hop centered. It didn't differentiate itself from a lot of the competition."
Before Vibe shut down in June 2009, the magazine saw its first quarter advertising pages plummet 42 percent, and it planned to cut its guaranteed rate base by 25 percent that July to 600,000 copies and to drop frequency to 10 times per year. When Burnett and his team at Uptown took over, they immediately got to work reconfiguring the print model. They brought in a new design director who gave the magazine a new look, one that Burnett says is more cohesive with the Web site.
Initially, the plan was to publish quarterly, but not long after relaunching, Vibe went bi-monthly and currently carries a 300,000 rate base—about half what it had pre-acquisition. The magazine increased its trim size to 9" x 10-3/4" (the same size as sister title Uptown) and upped its paper stock to 45-pound matte. "The paper is heavier and absorbs ink nicely," says Burnett. "That's one of the first things consumers notice now. Color really pops off the page."
Burnett says advertising dollars out of the gate were slimmer than anticipated. "A lot of advertisers had already planned their budgets, or were excited about the relaunch but wanted to take a 'wait and see' approach," he says. "We fought hard. Since then, many advertisers have carved out a few dollars for us."
Burnett declined to disclose specific sales figures but says the magazine has won back old advertisers as well as signed a few new ones, including Lexus, BMW and Mini Cooper. He says the magazine now is meeting its goal of about 40 ads per issue.
Digital at the Forefront
When Uptown and InterMedia acquired Vibe, the groups said Vibe.com would be the "centerpiece of the new venture." Since its relaunch, the site averages about 450,000 uniques per month. And the Vibe Lifestyle Network—which comprises partnerships with 12 to 15 publishers including AllHipHop.com, DJBooth.net as well as the recently relaunched Vibe Vixen site, to promote their sites under the Vibe banner and to leverage content and distribution—averages roughly 10 million uniques per month, or about double from the first quarter this year.
Again, without disclosing specific figures, Burnett says Vibe.com and the Vibe Lifestyle Network has "played out well" and has benefitted nicely from integrated sales programs. The Vibe brand also is expanding with the launch of a magazine app with digital vendor Zinio later this fall, Burnett says, and an iPad app during the first quarter of 2011.
In addition, Vibe is launching a DJ-mixer app next month that allows users to become their own DJ. "When you do these apps, you have to consider what's going to make consumers come back to them on a regular basis," says Burnett. "It should be cool, but not just cool for the moment. You need to come up with apps that have a purpose beyond just reading the magazine."
Into 2011, Vibe is looking at a digital radio business called Vibe Live as well as forays into TV and brand licensing. "It was heart-wrenching watching Vibe sputter like it did," Burnett says. "It was a dream for me, for our investors, to expand the brand. Through its ups and downs, this is the brand that our consumer is still attached to, and finds important across any platform."
Meet the Author
---