New Track Media Acquires Woodwork Magazine

Title joins American Woodworker in publisher's consumer enthusiast portfolio.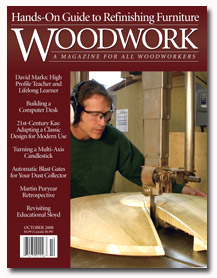 Cambridge, Massachusetts-based consumer enthusiast publisher
New Track Media has acquired Woodwork magazine from Ross Periodicals.
Financial terms of the deal were not disclosed.
New Track, which publishes American Woodworker magazine, considers
the acquisition an expansion of its coverage of the woodworking sector. "[The
acquisition] provides another platform to reach the woodworking marketplace and
expand our ability to talk to woodworkers of different skill and interests," vice
president and publishing director Joel Toner said in a statement.
Founded in 2006 by president Stephen Kent and Boston
Ventures, New Track Media also publishes Sky & Telescope and Love of
Quilting magazines. New Track acquired
American Woodworker from the Reader's Digest Association in 2006.
Meet the Author
---