New Track Media Acquires Crafts Publisher

Deal includes nine magazines, Web sites, conferences and events.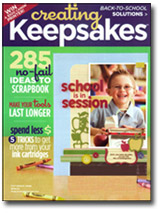 New Track Media owner BVK Holdings is expected to announce today its acquisition of CK Media, Primedia's former crafts division, from private equity firm Sandler Capital Management.
Financial terms of the deal were not disclosed.
Last year, CK Media had about $30 million in annual revenues.
In a statement, BVK and New Track Media president and CEO Stephen Kent called the acquisition "overtly obvious" for New Track, which serves the soft craft hobbyist market. "We are committed to sensible growth that improves our ability to do the best job possible for these consumers, and there is no question that this is a logical extension of that commitment," he said.
CK publishes nine crafts magazines, including monthly flagship title Creating Keepsakes, McCall's Quilting and Sew News. Also included in the deal are all associated Web sites, conferences and events.
Tina Battock, who until last year served as a CK Media executive and previously helped manage the brands at Primedia, has been named group publisher. It was not immediately clear if New Track will continue publishing all of CK Media's nine print magazines or if any layoffs were associated with the acquisition. Kent could not immediately be reached by FOLIO: for comment.
Cambridge, Massachusetts-based consumer enthusiast publisher New Track Media publishes several crafts titles, including Fons & Porter's Love of Quilting and Easy Quilts. Last year, it acquired Woodwork magazine from Ross Periodicals.
DeSilva + Phillips advised CK Media in the sale.
Meet the Author
---