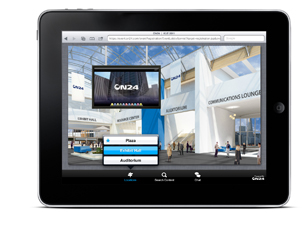 With responsive design becoming a priority for content publishers now that consumers are increasingly using tablets and other mobile devices for digital access, the service providers that port that content into other formats are also having to adjust on the fly. On24 this week debuted a new technology that allows its webcasting and virtual event services to be automatically optimized for  mobile devices on iOS and Android.
Dubbed On24 Move, the service provides an HTML5-based virtual environment for tablets and a more content-focused view for smartphones. The newly expanded mobile services were developed in response to rapidly increasing access to webcasts and virtual events via mobile devices.
Mobile access to these types of events grew 300 percent in the last year, says the company, and is expected to double in the next year.
The platform automatically detects what device the user has and serves up the appropriate version of the event. The familiar 3D virtual environments that users see on desktop screens, for example, are configured for tablet screens without the need for back-end adjustments by the client or other third-party vendors.
"Our virtual environments are now fully supported across the continuum of computing form factors—smartphones, tablets, laptops and desktops—further extending the potential reach of an environment," says On24 CTO and chief product officer Jayesh Sahasi.