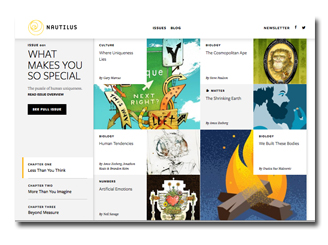 Nautilus, a new science, philosophy and culture fusion publication that launched this week, is breaking all of the traditional publishing rules around content, distribution and sales.
"Every month we'll take a single science topic and explore it from multiple disciplines, both within and outside of the sciences," says John Steele, publisher of Nautilus. "Our first one is human uniqueness, so we're exploring it from different scientific disciplines, as well as from the point of view of philosophy, psychology, sociology and theology."
In addition to exploring a single monthly topic through multiple disciplines, the new brand is exploring multiple content formats, including long-form essays, shorter articles, interviews, interactive data pieces and fiction stories—all with the idea of providing a variety of access points into that topic.
Steele says the magazine will be rolled out in print on a quarterly basis beginning in September with an initial run of 5,000. In the meantime, every month a new topic area will be introduced online, with a new topic "chapter" uploaded every Thursday—a chapter takes a deeper dive into the month's topic, exploring it through the multidisciplinary eye of humanities.
With the launch, the full issue is available on the magazine's website, Nautil.us, instead of being rolled out slowly every Thursday. The publisher is also working to expand the brand's presence, making it available on as many channels as possible.
"The idea is to make it available everywhere—we're in the process of getting approved at the iTunes store, and we'll try to sell articles with Amazon Kindle Singles to try and spread the content as far and wide as we can," he says.
The business model for Nautilus is evolving. Right now, online content will be made available for free, and the publisher is working to bring in paid advertisers to the print magazine and website, and will be monetizing additional content that is available through both physical and digital newsstands. Nautilus was launched with financial support from a John Templeton Foundation grant, and some banner ads from educational institutions, like Santa Fe University, are already online.
The magazine currently has a staff of 12 and pulled from different corners of the industry—when Discover magazine announced it would move to Wisconsin from New York, for example, two displaced editors joined on with Nautilus, as did a journalist from Nature Nanotechnology.
"In traditional media, the Internet was always used as a marketing tool for the print product and we're trying to reverse engineer that," adds Steele. "We're primarily online because it gives us an opportunity to utilize all of the tools the Internet has to offer, but we do want to have print because it's a great marketing tool—people love to have a print magazine."
Stay updated on the latest FOLIO: news, follow us on Facebook & Twitter!