A New Sales Strategy for 2009

Using content to funnel clients through each stage of the buying process.
Publishers are scrambling to offer the fully "integrated package" including print, online, events, lead generation and data to name just a few. But how to effectively position those offerings in a way and at a time that makes sense for the customer? While offering a full suite of services is the goal, a Webinar that works for one customer at a certain point in their marketing cycle may not work for another customer at a different point.
The following outlines a way to approach customers at different stages of the purchasing cycle. Input for this article came from several publishers as well as FOLIO:'s parent company, Red 7 Media.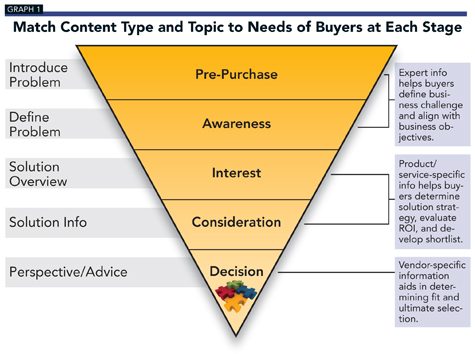 The purchasing cycle includes three separate steps for the client including:
*The beginning: Problem Clarification
*The middle: Solution Alignment
*The end: Solution Selection
A key point for publishers to remember is a buyer at the beginning may take longer to close but usually represents a larger deal because you helped them set their strategy.
From Pre-Purchase to Awareness
Prospects are progressing through the decision-making process before they reach your radar screen. Publishers need to create assets that cover all stages, including investing in development of late-stage content. Be aware that editorial assets provide high-quality shortcuts to helping the client make a decision by assessing the state of the industry and the way its handling certain situations.
A key point to remember is you get bigger deals from the buyers you educate throughout the cycle.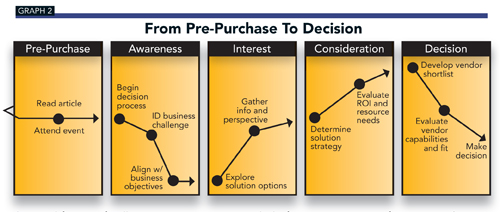 Five Steps To Decision
Prospective clients begin the cycle (typically) by reading an article or attending an event. Once that awareness is built, the process moves to gathering more information and establishing perspective. From there, the publisher can help determine a strategy while helping the client evaluate ROI.
The goal for publishers is to keep funneling information to drive the buyer through the pipeline and get clients progressively involved in a solution.
Meet the Author
---