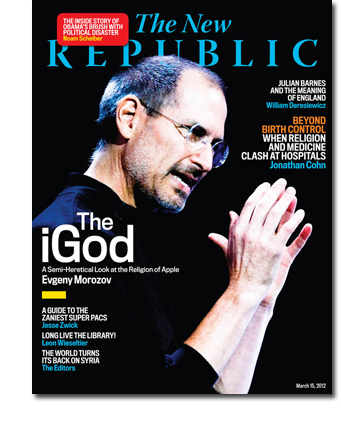 The New Republic has been sold again. Facebook co-founder Chris Hughes has taken a majority stake in the almost 100-year-old magazine, reports the New York Times' Media Decoder. The deal comes three years after Martin Peretz bought it back from Canada's CanWest Global Communications, which bought the magazine from its owners, including Peretz, in 2007.
Rumors of a potential sale of the title broke out in January when the ownership group, which includes TNR Advisory Board chair Laurence Graftsein, Peretz, Pershing Square Capital Management's William Ackman, and Alter Group president Michael Alter, reportedly hired the Blackstone Group to put the magazine on the block.
Peretz was the magazine's part owner for more than 30 years and was editor-in-chief until January 2011 when he stepped down to become editor-in-chief emeritus.
At that time, Richard Just became the editor-in-chief. Now, however, Hughes is taking that role along with the publisher title, with Just becoming the magazine's editor.
The magazine, which is not currently profitable, had been putting some effort behind expanding its digital operation with a paywall added in 2010. An app debuted last August.
Hughes says he's committed to making the liberal magazine's long-form reporting work in a digital age. In a letter introducing himself to TNR's readership and co-written by Just and Grafstein, Hughes writes:
"Many of us get our news from social networks, blogs, and daily aggregators. The web has introduced a competitive, and some might argue hostile, landscape for long, in-depth, resource-intensive journalism. But as we've seen with the rise of tablets and mobile reading devices, it is an ever-shifting landscape—one that I believe now offers opportunities to reinvigorate the forms of journalism that examine the challenges of our time in all their complexity."