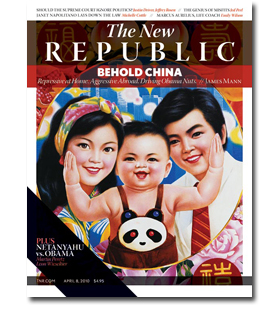 Starting today, The New Republic is offering a new subscription bundle called TNR Society. The strategy ups the ante on paid content, placing a premium on both print and online.
The move is a shift toward pushing subscribers up the value chain. Until now, print subscribers had access to all content online, says Rebecca Grossman-Cohen, TNR's executive director of strategic marketing.
Going forward, TNR's pricing tiers will start at $29.97 for digital-only access, which includes a digital replica and online content. That level has about 10,000 subscribers, Grossman-Cohen says. Next is the $39.97 level, called Home Delivery, which includes the print magazine.
The top tier and newest addition to the bunch is TNR Society. For $44.97 subscribers at this level get the print magazine, full access to the Web site and its 95 years of archive content. Also included are special newsletter subscriptions and invitations to events.
"We're creating a package that's more appealing to subscribers, giving them more access and additional perks and repackaging print and digital slightly differently," says Grossman-Cohen.
Selected content will also be put behind the paywall. For now, it's mostly the long-form and analytical pieces that run in print, along with similar content that's online-only. "Our long-form journalism is the product of intensive reporting and extensive editing, an incredible investment of time and resources," said editor Frank Foer in a statement. "When it appears in print, we put a price tag on it—and we're committed to doing the same online."
Grossman-Cohen is not anticipating much of a change in user experience. Visitors will only be prompted to log in or subscribe when they attempt to access the premium content. A substantial portion of the site is still open.