New Publisher Takes Criticism of Cover to Heart

FOLIO:'s Face Up panel leads Strategy to retool.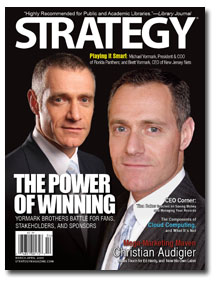 Criticism, particularly the "constructive" kind, can be brutal. But one publisher swallowed his pride to produce a better cover.
With an eccentric self-portrait of CEO William Tincup, Strategy, a bimonthly startup targeted at 25-45 year-old "Type A" MBAs, was featured in FOLIO:'s November Face Up, a monthly profile of magazine covers, which includes a panel of judges who offer criticism.
Strategy was trying to find its niche as a "360-degree on business," said publisher Matt Pettoni. Strategy's design team took the critiques seriously and retooled the cover for its subsequent issues.
 
"The biggest thing distracting me is the masthead and the tagline above it," Brian Taylor, design director at National Defense Magazine, said of Strategy. "It's all very crowded and the two trademark symbols just aren't needed." In response, Strategy decided to remove this tagline (something that the staff had been considering) and use the space above the logo for its strongest coverlines. "That's valuable real estate on the newsstand," Pettoni said.
The two trademark logos next to the tagline and coverline have also been eliminated. "We now just put a registered symbol next to the magazine title and since tag is gone," he said.
Like many magazines, Strategy struggles with the decision between producing "people" covers or "concept" covers.
 
"This is the magazine's first year," launched two weeks before the economy plummeted, Pettoni noted. "It was really a test year."
Meet the Author
---