David Granger likens print innovations to the new squeezable ketchup bottle, what he calls "the greatest consumer product in the history of mankind." That little twist on the American staple "allows people to access it in a simple and fulfilling way." The use of print innovations have yet to become as widespread as the ketchup bottle, but the new technologies are breathing fresh air into a mature industry that is battling its own digital counterparts for survival.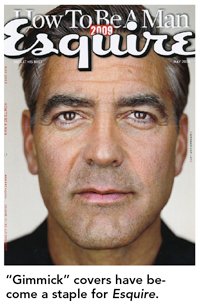 "In this era, when everyone's excited about new media, we need to do everything we can to make older media as exciting as possible," says Granger, Esquire's editor-in-chief. The magazine's latest print gimmick was its May 2009 issue where it featured a mix-n-match cover. The facial features of President Obama, George Clooney and Justin Timberlake became interchangeable thanks to a tri-perforated cover.
It's not just the digital era, but also the poor economy that has publishers looking for new ways to stay viable. "The growth of the Internet as consumers' primary news and content-delivery method, in combination with the impact of the recession on the publishing industry, has created a marketing environment that requires inventive and customizable cover and insert creative that will resonate with the consumer," says Scott Berry, senior vice president of sales for specialty printer Vertis Communications.
Print Innovations, Past and Present
Four years ago, Rolling Stone made news with its 3-D lenticular cover for its 1,000th issue. Late last year, The Hollywood Reporter also produced a 3-D cover featuring the movie "Cloudy with a Chance of Meatballs" for its November 30th issue. Some other recent covers include Esquire's October 2008 e-ink issue, where it embedded an electronic paper device in the cover—a first for the magazine industry. Another Hearst publication, House Beautiful, featured a pocket cover with a pull-out for its September 2009 issue. The cover line asked, "What colors does your house need?" and the pull-out provided a sampling of colors with personality descriptions and suggestions for use.
Hearst Corp. seems to be embracing print innovations. The company's 2009 annual report is a panoply of print gimmicks, including digital bar codes, pop-ups and magazines within magazines, produced by Sandy Alexander and Brown Printing Co. And for the past three years, the company has held "print expos" where it invites printers to set up display booths to showcase their cutting-edge capabilities in an internal tradeshow setting for Hearst's publishers, editors and marketing people. In January, Michael Clinton, executive vice president, chief marketing officer and publishing director for Hearst Magazines, decided to open the doors to invite advertisers and agencies to the expo.
That was a smart move considering that producing these special issues usually requires advertiser buy-in. One of the reasons specialty print issues aren't more commonplace is because they are more costly to produce. Granger notes that it wasn't until the economy started to head south that advertisers got interested in collaborating on some print innovations.
"I have no budget for increased cost so I need an advertiser to do it with," he says. "Frankly, there are costs that need to be shared. That's why we haven't done more; we have to find advertisers that get excited about doing something, as well as committing on the edit side."
It should be noted that some of the best print innovations these days are showcased by advertising inserts. Take the magazine insert for Ubisoft's Assassin Creed II, a video game. As you open the four-page spread, you actually tear off the head of the king, one of the characters in the game. "You can literally hear and feel the head tearing," says Doug Hazlett, vice president of marketing and sustainability for specialty printer Sandy Alexander.
A Jump In Newsstand Sales
While specialty printing has been around for a while, new technologies coupled with publishers' desire to stay relevant are leading to growth in this area of magazine publishing. "There are new techniques and technologies that are changing the business," Hazlett says. "The advantage of specialty magazine printing is that it drives higher awareness, recall and in turn sales which drives a higher return on your investment."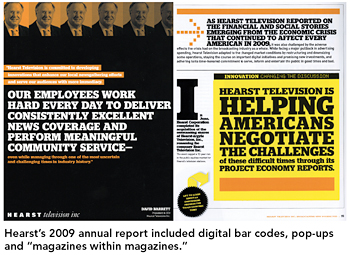 The newsstand sales of Hearst's specialty print magazines are proof. House Beautiful's September 2009 issue, featuring the pocket cover, was the top selling issue of the year for the magazine with 110,000 copies sold—24 percent higher than the average issue. In fact, it was the best-selling issue since September 2007, says a Hearst Magazines spokesperson. And the newsstand sales of Esquire's mix-n-match cover for May 2009 were up more than 10 percent. Esquire's e-ink cover for its October 2008 issue saw a newsstand spike of more than 15 percent with a 33 percent price increase, according to the spokesperson.
The payoff is also about generating buzz. "Great ideas and executions beget more great ideas and executions," says Karen Wagner, production director for Hearst Magazines. "Not only do advertisers benefit from innovation, but so do editors and the editorial product."
Challenges and Pricing
While it's difficult to get a good idea of just how much these specialty printing projects cost, Granger says that Esquire's issues that were innovative through its use of paper and ink cost in the "tens of thousands of dollars," noting that it was only a "slight upcharge" and not "cripplingly expensive." And Hearst maintains that its 2009 annual report with all the bells and whistles did not cost any more to produce than a regular report.
There are other challenges to producing specialty printed issues. The edit team, production staff, advertiser and printers must all be on the same page. Another challenge is the longer lead time. For example, a print unit that runs inside the magazine may take a week to two weeks to prepare, and can be produced earlier, but must be at the printer at the time of binding. And a specialty cover can't close too early because of edit constraints, Wagner says. Esquire specialty covers have closed about 10 days earlier than regular covers, Granger says. He adds that time also has to be factored in to allow for the selling of the idea to an advertiser and for the manufacturing division to have enough time to order paper, etc.
What's Next: Thermo-Dynamic Ink
Some of the emerging trends and biggest bangs for the buck include the use of 2-D bar codes and anything interactive. The use of 3-D covers still generate a tremendous amount of interest and activity, especially given the advent of 3-D movies and TV, Hazlett says. Special coatings, like gloss UV and metal effects, unique stocks, special colors and custom pop-ups and die-cuts are hot now, he adds. "Inside the book, a unique stock, custom shape or special finish provide the highest awareness and recall for a marketing campaign," he says.
In addition, some of the updates to the actual presses have enabled many of these technologies. "There are so many different units that can be produced and bound, due to improvements to presses," Wagner says. "We can do more on press in one pass than we could before. In the past, in some cases we've had to print a unit on press and then take it offline and do other things to it, like [die-cut] it, fold it or glue it. Now, the new technologies that printers have added to the presses enable them to do more of that inline," saving time and money.
Hearst's Marie Claire has something special in the works for select copies of its March issue, Wagner says, and Esquire is already planning something innovative for its November issue, which will feature "the sexiest woman alive."
Granger wants to experiment with inks next, particularly thermo-dynamic ink, which changes color based on temperature, so words can actually change color. "There's so much interesting ink technology and that's one of the next frontiers I want to play with," he says. We've already seen what he can do with paper.