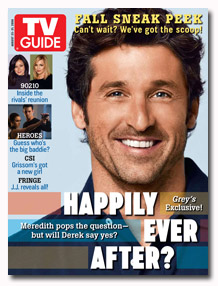 It came as startling news to many when the financial terms of TV Guide's sale were revealed, showing that California-based investment firm OpenGate Capital paid $1—less than the cover price of one single issue—to purchase the print brand from owner Macrovision. On top of that, Macrovision said it would lend OpenGate up to $9.5 million at a surprisingly low 3 percent interest rate.
Is this like paying the garbage man to take your trash away? It seems crazy that Macrovision, after its acquisition of Gemstar-TV Guide for $2.8 billion, would cough up nearly $10 million in loans, to an investment firm no less, to get the magazine off its books. There again, in this rollercoaster of an economic environment, anything is possible.
According to OpenGate founder and managing partner Andrew Nikou, terms of the sale need to be "taken into perspective." Here is his statement regarding the acquisition terms, via a TV Guide spokesperson:
"Macrovision's recent disclosure of the terms of the sale of TV Guide need to be taken into perspective, given the magazine's history and unprecedented relaunch in 2005.
TV Guide is a company with an exceptionally strong foundation, built around a subscriber base of over 3 million, a weekly readership in excess of 21 million, a powerful brand that commands trust and loyalty, and a world class organization able to produce a leading entertainment magazine with stunning photography and unique features-driven editorial content.
However, the magazine's reinvention from a listings guide to a contemporary television entertainment magazine has been not only highly promising and successful to date, but has also been a very costly undertaking. With losses over $20 million in 2007 and further losses expected in 2008, all of this combined with significant deferred subscription and other operational liabilities, OpenGate is stepping in with the commitment to successfully complete the magazine's turn-around, which targets restored profitability by the end of 2009, and to re-establishing TV Guide as the premier television entertainment magazine in the country.
This commitment will enhance the value of this unique franchise and is a tribute to the underlying strength and potential of the brand that has so far demonstrated its ability to withstand the test of time."