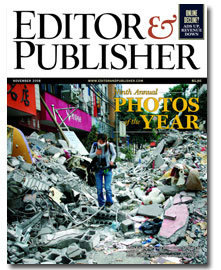 The fate of 126-year-old Editor & Publisher is no longer drifting in uncertain waters. The shuttered newspaper magazine was acquired Thursday evening by Duncan McIntosh Co. Inc., the Irvine, California-based publisher of Boating World, Sea Magazine and The Log newspaper.
Wait, what? Why in the world would the publisher of boating magazines want to buy a big-name property that covers the newspaper industry?
"I published newspapers when I first got into this business and have been reading Editor & Publisher on and off for more than 30 years," Duncan McIntosh told me over the phone today. "I heard about its closing and thought to myself, 'That can't be.' I started sending e-mails to Nielsen until someone would finally talk to us. And, now, here we are."
Nielsen closed E&P, along with sister publications Kirkus Reviews, last month after it announced the sale of eight media/entertainment brands—including Billboard and The Hollywood Reporter—to e5 Global Media, a new company formed by private equity firm Pluribus Capital Management and financial services firm Guggenheim Partners.
The newspaper industry's dramatic decline, Duncan said, is what made saving E&P so important. "When do you need a magazine like Editor & Publisher more? When everything is going great or in a tie of crisis,"he said. "It's more vital now than ever."
OK. But how is a newspaper magazine going to mesh with his stable of boating publications?  "Maybe I'm not cerebral enough to worry about things like that, but I don't think it will be a problem," said Duncan."The back end, in terms of production, IT and Web, is the same regardless of the publication. As long as I have separate ad staffs and separate editorial staffs, everything else is the same. We think we can supply all the support services for it, we can bring it into a structure with a much lower overhead, and make it viable."
In terms of editorial direction, Duncan said E&P is and has been right on course, producing best practice-type content for publishers. He said he has no immediate plans to change the magazine's monthly frequency or circulation.
"The magazine has a great staff and we were lucky enough to keep about 80 percent of them," he said. E&P's former editor-at-large, Mark Fitzgerald, will now serve as editor, replacing former editor Greg Mitchell, who is no longer with the magazine. Charles McKeown will continue as publisher.
This isn't the first time we've seen a big b-to-b player shutter a magazine, only to be contacted by a smaller publisher who wants to acquire it. Last April, Reed Business Information shuttered all but one of the magazines published under its Associated Construction Publications Group, which consisted of 14 regional construction titles. John White, the original co-owner of the ACP titles, then reaquired the licenses and relaunched them gradually before the end of the year.