New Opportunities in Magazine Manufacturing

Where publishers and printers look to save—and even make money—in 2009.
SEE BELOW: From Back-End Support to Revenue Partner (sidebar)
Magazine production has changed dramatically in the last few years. Tools and standards that have come to the forefront—ad portals, virtual proofing, online insertion orders, PDFs—which weren't exactly new, still gained significant ground.
Today, publishers and printers know there's no single solution. Digital asset management and metadata are all being used, but what's old is new again, with old standbys such as "printing to the numbers" and gray component replacement being resurrected to find cheaper, faster ways to create the final print product.
The publisher/printer relationship often boils down to one factor: Price. Financial pressures have grown significantly over the last year and it's unlikely to change in the near future. But publishers may want to look at the bigger picture and assess whether the cost savings they're seeing are necessarily worth a corresponding drop in service.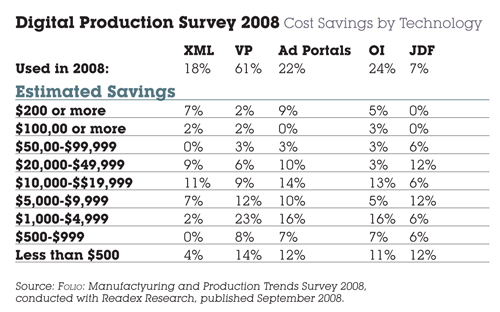 Color Management
Color management continues to be one of the industry's most vital topics, since improvements in color not only improve the finished product, but can yield production efficiencies and savings through reduced waste.
City and regional publisher Niche Media works with its printers to calibrate to the profiles of the presses. "Our make-ready's are faster, we're up to color instantly and consistently because of the closed loop color on the presses," says director of manufacturing Shawn Lowe. "You'll see more publishers partnering with printers as we all fight to keep clients happy and coming back." His goal is to reproduce a common ad better than his competitor, while being consistent across all of its publications so that an ad in Gotham is identical in quality to an ad in Michigan Avenue, for example.
Gray component replacement (GCR) is a technique for replacing gray tones otherwise made from yellow, cyan and magenta separations instead with black ink. Adopted in 1987 by Newsweek, today Time Inc. sees a broader adoption of GCR ink efficiency software with publishers. "The cost savings are substantial and economic forces should speed adoption," says Guy Gleysteen, senior vice president of production at Time Inc. "Similarly, virtual proofing has been in the marketplace for several years, but it seems likely that wider adoption in 2009 is inevitable as publishers focus on viable cost reduction technologies. Both are widely deployed at Time Inc."
Tighter press controls will also play a larger role. "What is needed now is the ability of presses, especially Web presses, to have tighter color control," says Connecticut Cottages & Gardens art and production director Matthew Hageman. "It's the final piece of the puzzle on the way to printing to the numbers. The front end controls are there, the closed-loop color technology is there. The new generation of presses is getting close, so I think it's only a matter of time."
One of Quebecor World's primary technical initiatives in 2008 was assisting with the roll-out of G7 qualification to the Web offset process (the printer claims its Dyersburg, Tennessee plant became the first G7 Qualified Web offset facility in North America). Quebecor World partnered with IDEAlliance to extend G7 Qualification, which began as a sheet-fed process, to Web offset technology.
Is Virtual Proofing Taking Off Or Behind The Times?
Digital workflows enable printers to combine production services once considered distinctly separate, such as pre-press, printing and distribution. Now they've been combined to create a seamless manufacturing process to save time and money without sacrificing quality and service.
"It starts with offering a digital and proofless prepress workflow, moves to a lean, but flexible printing and bindery operation, and goes out the door through multi-faceted distribution systems to cover all channels," says Dan Drake, director of print operations at IPC Print Services. "This allows the publisher to keep advertising open longer because they can submit files later and still get the publication in the hands of the reader faster."
While virtual proofing has existed for years, just 61 percent of publishers used it in 2008 (up from 52 percent in 2007), according to Folio:'s 2008 Manufacturing and Production Trends Survey. "While we have offered it for many years, I believe 2009 will be the year everyone takes a hard look at soft proofing," says Drake. The systems offer more than just proofing capabilities and more stable PDF formats, he says. "It's just like the evolution of computer-to-plate, it took some time, but now the process can be trusted."
In  2009, Hearst will continue to implement virtual proofing with its printers, conduct further tests for fully compliant PDF/X-4 files, and "continue to raise the awareness  among the ad community about the importance of including the ISO 12647-7 Digital Control Strip on their supplied proofs for better print predictability," says William McGuirl, quality assurance director at Hearst Magazines.
One production department, which wishes to remain anonymous, tested the concept that when printing with a printer that has calibrated monitors in the press room, provided the front-end calibration matches that of the printer and the front-end set up converts to a profile that matches the paper stock (instead of converting to generic CMYK), the need for proofs is eliminated. "We ditched virtual proofing over the summer. I realized that as long as my monitors were calibrated, and as long as my front end set-up was the same as the premedia set-up at our printer, virtual proofing was unnecessary," the source says. "The department only uses scatter proofs for the well, which they don't ultimately send to the printer. They went on press with a number of hard proofs, but didn't bring them out until the  press was up to color. It was dead on."
Eliminating A Few Steps
Blood-Horse Publications has implemented an automatic e-mail notification for when a file is uploaded to an FTP site. "There's no more watching the site for files. It's watching for us," says print operations manager Lisa Coots. Blood-Horse is also using DALiM TWiST, a premedia job processing system, for all of its files. "This allows us to automatically send the files to our printer, Publishers Press, who is also using DALiM," she says. "As a result, we can view uploaded pages and easily identify pages and forms that aren't complete."
They can also send a new file as a replacement for a previously sent file, and as a result, "can monitor their system to make sure the new file will get printed," says Coots. "We've taken advantage of electronic approvals for some print projects. It's fast, efficient and paperless."
Coots says Blood-Horse is in the process of upgrading the in-house electronic tracking system where "we currently cannot attach digital files to the e-ticket," which will make the system user-friendly for print and digital, and allow them cross-platforming on some projects.
Blood-Horse is investigating an ad system that would allow clients to upload a file, attach it to an insertion order and automatically send it though the DALiM TWiST system. "This will reduce man-hours and make for a more efficient workflow," she says.
Connecticut Cottages & Gardens has seen time-saving benefits from Brown Printing's Web-based workflow.  "Since we need less time to ship and proof, we've been able to extend in-house deadlines. This has given our ad sales team more time to sell," says Hageman. "It also allows last minute changes that previously would have caused 12 hours worth of chaos to be dealt with in less than half the time at a fraction of the stress."
Ad Portals Draw Small Pubs
While ad portals—which allow advertisers to submit advertising materials electronically and allow the publisher to place the materials into the correct workflow—were once the realm of larger publishers, smaller publishers like Connecticut Cottages and Gardens have begun to use them (although ad portals overall showed little growth over the last year, with 22 percent of publishers using them in 2008 versus 21 percent in 2007).
"I think ad portals are going to become big business," says Hageman. "They save so much time and aggravation. We've logged more hours than we can count troubleshooting files for people…I think it can even deter smaller advertisers who can't afford an agency from advertising at all. The idea that an advertiser can drop a file on a Web site, have it preflighted in seconds, and upon approval be placed into the printer's workflow, is phenomenal."  
Niche Media's success with ad portal SendMyAd makes Lowe think that "ad portals will continue to grow and prosper. Anything that will save time, both in allowing for more ad pages, and in delivery speed to the plant, is important." However, Lowe says that portals can be a double-edged sword. "You have to keep the books open later, but you still have to make your press date and deliver books on time. There's little margin for mistakes, so the first shot has to be dead on."
Niche Media started experimenting with ad portals more than three years ago, and believes that they will "continue to grow and consolidate," says Lowe. "Advertisers are also looking for the speed and additional time to get last minute creative to press."
Niche is also starting to convert to InDesign and Acrobat, particularly "after seeing the industry shift to Adobe, to the point where Quark now has a publishing system that is file agnostic and will take ID files," says Lowe. "The goal is to first reproduce the supplied creative perfectly, since many advertisers are pushing back on poor reproduction."
Postal and Co-Mailing
Publishers have been adjusting for mailing rates, as Periodicals, Standard or First Class postage will rise by just about 4 percent in May. But as publishers know, that's not a given.
IPC's Dan Drake says the Intelligent Mail Barcode—the next generation of USPS barcode technology for sorting and tracking letters and flats—could be as big as co-mailing in terms of cutting costs and boosting efficiencies. "The incorporation of the full-service Intelligent Mail Barcode into magazine distribution systems will be huge," he adds. "It will be mandatory in 2010, but the U.S. Postal Service is expected to raise rates for magazines that do not incorporate it sooner. If you wait until late fall, you could find yourself scrambling."
Traditional Workflow
Ovid Bell emphasizes "lean manufacturing" to cut costs, and is pursuing paper deals with vendors that will have an immediate effect for customers. The printer has installed a new perfect binder, which provides a 143 percent increase in production capacity, and is recasting one of its presses as a cover press, including a sheeter for perfect bind covers.  
"We're also working on shorter turn around schedules," says president John Bell, primarily with monthlies that can maintain production schedules. "In the short-run production arena, there aren't many."
The industry may see more manufacturing partnerships between publishers in the same market. "Smaller publications may lean on other publishers to help create, print and distribute their magazines and newsletters, due to reduced staff and increased manufacturing costs," says Coots. "We are all in this together."
Just as publishers are realizing with edit and marketing, there's only so much that can be cut from the manufacturing process.
Lowe says that Niche Media is still  "one of the few publishers who run 50/50 splits. Investments in technology are necessary just to stay in the game today."
SIDEBAR: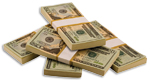 From Back-End Support to Revenue Partner
Publishers today aren't just looking to printers for print solutions, but also for revenue generating opportunities. Increasingly, that comes in the form of digital solutions such as digital magazines, but also support (or even full providing) of core disciplines such as content develop and advertising administration.
Many publishers are looking to printers to help them connect print and online, with services ranging from digital editions to Web development. "One of the most important trends coming out now are e-books, and yet the newsstand and subscription copies are just as important," says Shawn Lowe, director of manufacturing at Niche Media. "I think you will see a new co-existence between Web and print where print will drive content on the Web and then the Web will take that content and drive consumers deeper to advertisers. E-books are ready instantly, and will draw attention to the magazines that are coming out soon and drive newsstand sales."
"Content Portability" is one of the new paradigms in a digital age. Intellectual property has its maximum value when it can be repurposed into multiple channels, each of which can generate new revenue streams. That prompted Quebecor World to form The Publishing Services Group in June 2008 by merging the company's magazine, book and directory businesses. "There is a meaningful opportunity to demonstrate to clients how they can expand their offerings cheaply and efficiently by taking advantage of the Publishing Services Group and certain of its new digital tools including its digital asset management solutions, digital editions, ad and edit portals and electronic communication systems," says Sean Twomey, executive vice president of The Publishing Services Group. "They create new subscription and direct sales opportunities, as well as advertising upsell possibilities.  They also allow for a more efficient way of versioning editorial and advertising."
In additional to digital editions, Fry Communications offers online video, which can be packaged with digital editions and online directories. "This offers direct contact with the advertiser," says vice president of sales Steve Grande, who says that the price is "several hundred dollars per unit."
Fry also offers a Web-based infrastructure for creating online yellow pages directory as well as variable data services which helps clients target personalized messages to their audience. "Our role is to move forward to an information distribution company in print, direct mail and online," says Grande. "More of the requests we're getting from publishers are related to the work functions the printer can take over and provide as a service and run the gamut from dealing with digital advertising management and providing help desk support for advertisers to dealing with pagination and book makeup. With our direct mail operation, we're now talking to certain customers about mailing their invoices for them."
Meet the Author
---