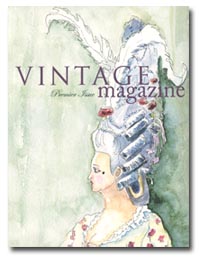 This isn't your typical print launch.
Inspired by Fleur Cowles' Flair magazine—which published between 1950 and 1951—Ivy Baer Sherman is launching Vintage Magazine, a twice-yearly publication she says celebrates "classic culture and the pleasures of print."
Sherman, a first time publisher and editor, most recently served as director of publications at Manhattan's Friends Seminary. She said she fell in love with Flair in 2003 when she attended an exhibit dedicated to the magazine at the Pratt Manhattan Gallery. "The distinguishing feature of a Flair cover was a die cut, which offered an artful glimpse onto the world within," she told FOLIO:. "Turning the cover revealed further delights–foldouts and fabulous illustrations."
Sherman has attempted to replicate some of Flair's foldouts and special inserts with Vintage, whose premiere issue features pages cut to resemble album covers, a flipbook-style pictorial history of hairstyles through the years and fold-out photos, among others. The magazine mixes fonts, textures, photos and illustrations to cover topics including art, music, fashion, food and travel.
The magazine was financed privately and is owned by Vintage Magazine Ltd. Sherman declined to say how much it cost to produce the magazine.
The launch issue, which took roughly six months to produce, doesn't feature any advertisements. "Vintage Magazine does not have a traditional business plan," said Sherman. "I am following the energized conversations now taking place—such as Samir Husni's think tank on magazines." The magazine is available by subscription-only at vintagezine.com. Each issue costs $20 while a year sub (two issues) costs $32. A two-year subscription costs $60.
Why did Sherman produce such an extravagant print product when the print magazine industry is in such a state of turmoil? "My tendency is to step toward a problem in order to assess and assist," Sherman said. "In the case of print magazines, I find this a particularly exciting time; all eyes are focused on the medium. What better time to make a statement? It is time to show what print can do."