Paper is the central ingredient that every magazine shares, but too often it's ignored. And when publishers do address it, it's usually to cut weight or trim size.
Whether it's adding tactile ridges, an eye-catching gloss or a shimmering foil, special treatments and features can generate returns for a title—both on bottom-line and in the way it's perceived.
"There's something physically satisfying about interaction with a print piece that has been treated with special finishes," says Mark Calev, president of Calev Print Media. "[These are] things that can't be communicated through digital media. By using these print techniques, we relate to our audience on an emotional level by appealing to their senses. A multisensory brand experience generates certain feelings, thoughts, beliefs, opinions, that contribute to a brand image in the consumer's mind."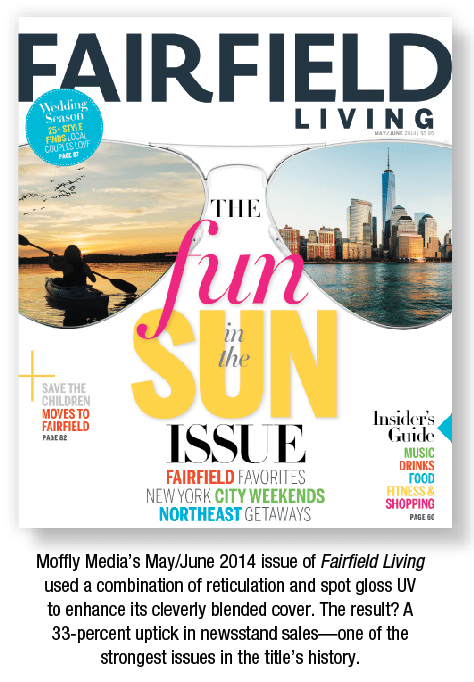 ​Moffly Media tried several finish and texture combinations on its covers last year, and the returns were strong enough to encourage them to continue experimenting.
The group tested soft touch, gloss and reticulation treatments on a total of seven covers last summer and saw mixed results on the newsstand compared year-over-year: three sold better, three sold worse and one didn't change.
"Covers that stayed close in design principle, and added the combination of reticulation and spot gloss UV performed well," says Brian Feidt, chief financial officer for Moffly. "The cover designs that moved away from traditional design principles and added special treatments didn't perform very well. It was tough changing two variables though, so it was hard to pinpoint exactly which one caused the decline."
Ultimately, isolating the variables is nearly impossible—there's just no way to tell whether an issue sold better because of its textured cover, its new design, its feature well or even the weather that month. Measuring effectiveness is even tougher for controlled circulation magazines that can't rely on newsstand sales for data.
But while the hard numbers were mixed for Moffly, the qualitative evidence was unequivocal—it worked.
"All of them enhanced the reader experience based on anecdotal feedback," Feidt says.
Now, Moffly is playing with advertiser-focused opportunities like barndoors and gatefolds. Those elements create expensive inventory that simply wasn't there before.
"Offering the equivalent of another premium page to advertisers is providing strong incremental revenue, as well as getting advertisers into a premium spot that wouldn't normally be available," Feidt says.
Enhancements might not make a difference to casual audience members, but for Moffly, they're proving to benefit for its highly-engaged segments.
Strengthen Your Spine

Regardless of fancy finishes and textures, a great looking magazine will only last as long as its binding. Cracks on a flimsy spine can make an issue look old after only a few thumb-throughs on a newsstand; low-frequency titles that expect to live on coffee tables for months may see those stays cut short if they look worn out. That's why publishers should be asking whether they're using the right adhesive.
While ethylene vinyl acetate (EVA) adhesive has been the go-to glue in perfect bound magazines for years, polyurethane reactive (PUR) is another option to consider, especially for books with high page counts or those using heavier stocks.
EVA is easier to use, cures faster and, thus, will cost you a little less, but it has its limitations when it comes to coated paper. PUR, meanwhile, has a more complex application process, allowing for deeper penetration, and a stronger chemical bond with coated stocks—PUR can be as much as 60 percent stronger in page pull tests, according to various binderies. It also lays flat, and it's clear, so there won't be the off-white or amber residue found on the edges of books bound with EVA.
"There's such a significant difference," says Shawn Lowe, vice president of production at DuJour. "You can literally open to the middle of the book and pull on a page and it won't come out. And if you look at a typical magazine spine, you'll see the glue there. But with PUR, you won't. It's invisible and allows for very tight, finished corners and edging."