New Life for Events?

How some leading b-to-b publishers are re-vitalizing their shows.
The exhibitions industry declined 12.5 percent in 2009, according to the Center of Exhibitions Industry Research. Meanwhile, tradeshow M&A has come to a crashing halt, according to trade publishing event advisory firm Corporate Solutions.
However, the event side of the publishing industry received a couple boosts in recent months. First, Los Angeles-based Canon Communications announced plans to launch three DesignMed events this year to be co-located with its Medical Design & Manufacturing shows in the U.S. Meanwhile, American Lawyer Media said attendance and registration for its LegalTech New York event grew by 3 percent this year.
With revenue streams changing and expectations from sponsors growing, the business of producing a tradeshow is shifting for a number of producers from heavily sponsorship-driven to other sources. At Canon Communications, for instance, increased demand from sponsors to deliver ROI is pushing the company to intensify attendance campaigns this year, according to events senior vice president Kevin O'Keefe. Last year, Canon saw revenue from its events decrease roughly 5 percent to $45.2 million compared to 2008.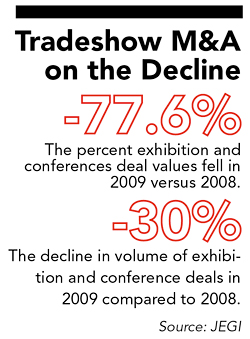 "The basic premise of the outreach is very personalized and highly targeted, involving top-quality, first-class mailings, telephone outreach and practical show related incentives to the titles," says O'Keefe. "We are also paying special attention to develop pristine databases of the qualified buyers we really want on the floor of the shows and reviewing our pre-registration files to remove attendees and not send badges to or confirm registrants we would prefer not to come to the show."
In February, Canon announced plans to launch three DesignMed events this year to be co-located with its Medical Design & Manufacturing shows in the U.S. O'Keefe says Canon aims to have a 10-to-1 qualified attendee to exhibitor ratio. "When we see this metric or better, we see at least 70 percent on-site or at-show space renewals with signed contracts and deposits. When we don't, the at-show space selection tells a different story." To help with qualifying leads, Canon is launching Qmed.com. Featuring only "qualified, Canon-vetted medical OEM suppliers," the online tool requires interested medical device manufacturing buyers to register first.
At residential housing and commercial construction publishing giant Hanley Wood, selling booth space has been the primary revenue source for its Exhibitions group. In 2010, the group has been focused on being "more realistic" about budget expectations.
"The residential and commercial markets are under duress, although improvement in some residential sectors is taking place," says Rick McConnell, president of Hanley Wood Exhibitions. "The overall business model is becoming more integrated with our print and online platforms. Online marketing efforts have increased with significant improvements made in our Web sites, online match-making attendee tool Connect (a program that mines the company's database for VIPs) and other online applications."
Hanley Wood produces 14 tradeshows. McConnell declined to say how 2009 revenue compared to the prior year. Last month, the publisher bought what it calls a "category-killing" Web business in Home Plans LLC which features more than 14,000 house plans on HomePlans.com.
Reducing Costs
Steve Reiss, vice president and publishing director at Vance Publishing, oversees the company's three woodworking industry tradeshows. The events have typically been driven in terms of revenue by booth rentals and large companies "allowing attendees to see their large capital equipment in action." But financial constraints among exhibitors have resulted in many of the larger companies not renting as much space or not participating at all.
"Clearly, we're going to figure out other ways to drive revenue," says Reiss. "Producing a show costs a lot of money—for both the producer and the exhibitor. We're shifting to focus on technology to bring a certain level of interactivity between vendors and attendees. We also have to maximize opportunities for face-to-face contact."
Experimenting in Virtual
According to O'Keefe, the current virtual tradeshow format "has not really taken hold in any meaningful way"  for Canon and most likely never will.
But Hanley Wood's McConnell doesn't share that opinion. The company is using virtual tradeshows to complement its face-to-face events.
"For example," he explains, "we will produce a series of Webinars leading up to one of our live events or a one-time virtual event featuring a series of Webinars. Then, on-site at the live event, we will feature an educational session that culminates the series. In order to gain all of the knowledge from the sessions, attendees must participate in both the online and on-site events."
But despite the strategy, no one publisher has figured out the silver bullet for producing mega-profit generating tradeshows during this economic downturn.
The solution (or solutions) aren't coming overnight, says Reiss. "The marketplace is in such poor shape that there's nothing we can do in the short term to replace the revenue that's lost when a large equipment supplier can't afford to bring as many tools to the show and has either a smaller space or doesn't show up at all."
Meet the Author
---