New Hemispheres Editor: 'We Want to Reinvent the In-Flight Magazine Completely'

United's in-flight title turns down 'lowbrow' advertisers, staffs up.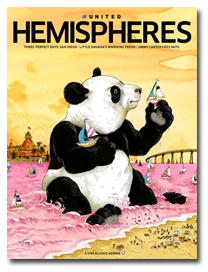 In December, United Airlines selected Ink Publishing, a London-based custom publisher, to publish Hemispheres—effectively ending a deal with Pace Communications to produce its in-flight magazine.
Today, Hemispheres will officially relaunch with a new design, new philosophy—and a new and editor and publisher bent on reinventing the magazine as a high-brow consumer title that passengers will actually want to read, rather than, say, a place to deposit their chewing gum.
"In-flight magazines have this stigma attached to them," new Hemispheres editor Aaron Gell, a former editor at Radar, said. "They're considered 'sleepy'—the content is not up to par with what you see on the newsstand.
"We're not approaching it as a service magazine," Gell added. "We're approaching it as a general interest magazine—something you would pay for before you get on a flight."
As evidence of this new, quasi-highbrow approach, Gell pointed to one new front-of-the-book section he described as a "global 'Talk of the Town.'"
"No more 'Top 10 Steakhouses,'" he said.
"In-flight magazines have always assumed a captive audience—it has made them very lazy," Gell said. "We all know there is going to be Wi-Fi on planes soon, it's already starting right now—so we're going to have to fight for attention."
Gell said his goal is to "give passengers something as sophisticated as they would find on the newsstand," and, in turn, an editorial environment the types of high-end advertisers found there are comfortable in.
But to attract those advertisers, Simon Leslie, Ink's group publishing director, said he's had to do something few magazine publishers have the luxury to do in a recession: turn away advertisers.
"We inherited a lot of contracts we're not renewing," Leslie said. "Hair replacement, dating adverts—we're removing them to attract leading advertisers." The magazine, he said, will feel "very European."
Ad pages for Hemispheres fell 24.1 percent in 2008, according to the Publishers Information Bureau.
"Of course it's very risky," Leslie said. "Some marketers are offering big amounts of money at us, and I've turned them all down. Literally people who'd slot 6- or 8- or 12-page inserts with 'Best This' or 'Best That'—it's pure cash that goes to the bottom line."
He added: "People are looking at me like I'm on a different planet, (but) we've taken a stance to refuse   that advertising and are sticking by our guns."
And, unlike Delta Sky, which announced in April that it would be available for sale on newsstands—an apparent first for a U.S. in-flight magazine—there are no plans to distribute Hemispheres on the newsstand. "The audience we have on planes is good enough," Leslie.
Meet the Author
---