New Future US Site Is Powered By "Super Users" Culled From Social Media

"People are starting to tire of three and a half stars from CNET."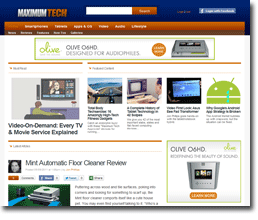 With an outpour of technology reaching into virtually every aspect of daily life, even the most technologically stinted folks are finding themselves with the newest gadgets and wondering, "What exactly do I do with this?"
Maximumtech.com is hoping to answer some of these questions. The Web site is a spin-off of the quarterly print MaximumTech, which was launched in August 2010. The print MaximumTech is newsstand only, and has a sell through of 36 percent on 120,000 issues released with each new edition. A property of Future US, MaximumTech is poised to ramp up to six print issues in 2012, with monthly issues set for 2013.
Currently, Maximumtech.com has a full-time editorial staff of two, a features editor and a news editor. MaximumPC.com and Maclife.com writers will contribute to Maximumtech.com, and freelancers are also used to create content.
Jon Phillips, editorial director, is also tapping into their successful social media streams (MaximumPC.com currently has 35,000 Facebook fans and 14,000 Twitter followers) to create a group of 300 "super users" to contribute to the sites. Starting with MaximumPC.com, an invitation to fill out a survey will be sent out on the Web site, Facebook and Twitter pages. The survey will include a brief essay question concerning why readers would want to become "super users", what kind of equipment they're interested in and what they'd like to cover.
Super users are slated to create content for the Web sites, answer user questions about technology and give real time feedback on content created for MaximumPC.com and Maximumtech.com. Once Maximumtech.com gains a solid audience, Phillips will launch the 300 super user initiative in that property.
Expecting about 10,000 responses to this inquiry, staff will then choose 300 readers to be part of this "inner circle". Entry includes a badge for their Facebook pages so other readers can reach directly out to them, ability to upload photos to the MaximumPC.com site and Facebook pages, discounts, coupons and first chances to purchase merchandise from the sites.
Editorial staff will launch the MaximumPC.com super user search in June, with Maximumtech.com following as soon as adequate audience numbers are gained.
Maximumtech.com is picking up where MaximumTech leaves off. Phillips says that the print property is higher-end, full of data entry points and photography, and aimed at "the hardcore tech enthusiast". Maximumtech.com is positioned for early adopters, who are more confused about technology than excited by it. Maximumtech.com will not only introduce new products, but also explain exactly what to do with them.
Phillips says that Web sites like Engadget.com do an adequate job of covering the rumor and technology news mill, but lack the guidance that new consumers need. He also believes that, "People are starting to tire of 'three and a half stars' from CNET[.com]."
To that end, Maximumtech.com will offer accurate ratings of products, as well as guidance on whether to buy a technology product now or if the consumer should wait for the next version to be released.
Set to be advertisement-supported, Toshiba has already signed on, and other deals are in the works. After the "smart home" issue of Maximum Tech, Dwell sought out an advertising partnership, and talks of national syndication with content and broadcasting properties are currently underway.
Meet the Author
---