The New Dynamics of Ad Campaigns

Cross channel integration is the new normal—get on board or move over.
When your brand is everywhere, your ad campaigns need to be everywhere, plain and simple. As magazines evolve from a single printed entity produced monthly or weekly to a 24/7 media experience, advertisers expect to go along for that multi-channel ride. Engaging cross-platform ad buys are quickly becoming the new normal—even as content publishers still figure these new models out.
"We are a content company and whether we're serving readers on a phone, on a tablet or in print, it's all the same thing—communication with a valued consumer," says Laura Frerer-Schmidt, publisher of Rodale's Women's Health. "We want that communication as interactive as possible. We're so excited about how things are evolving because we can now communicate with our consumer eight times a day—and she likes it."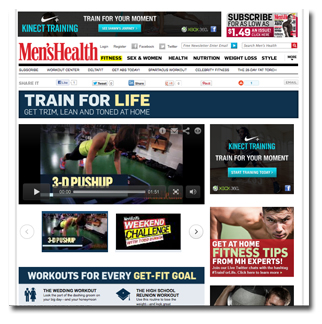 Rodale's Women's Health and Men's Health are just the latest brands to offer advertisers a high level of engagement through a fully integrated ad campaign. To deliver value to advertisers in this new media environment, the brands have developed a campaign for Xbox-Kinect that will be rolled out over two months through five social platforms, on its website, in print magazines and across tablet computers.
Over the last six months, Rodale has worked with Xbox to develop this fully integrated campaign to promote its new video game, Nike+ Kinect Training, which is an interactive virtual fitness game featuring personal trainers. The final ad-buy from the company with these Rodale brands included several components:
• Print: Multi-page Xbox Kinect-Nike Training ads run in both issues of the magazines.
• Online: Both MensHealth.com and WomensHealthMag.com websites have dedicated "Train for Life" centers that feature videos and how-to's on staying fit—all integrated with promotions from Xbox.
• Social Media: Through these brands, Xbox has sponsored eight weekend challenges—at home workout routines—that were created specifically for social channels. Each week the challenges, which are posted across Facebook, Twitter, Pinterest, Instagram and Google+, see about 1,500-2,000-plus like, 500-plus shares and 700-plus comments throughout the weekend. Sponsored Twitter parties are also held every Friday in January for readers to discuss fitness challenges, goals and routines using the hashtag #TrainForLife.
• Tablet: 45-second video advertisements will run through Rodale's tablet editions of Men's Health and Women's Health.
Pricing & Execution
"We wanted to create as many touch points as we could with our audience across as many different platforms as possible," says Ronan Gardiner, publisher of Men's Health. "Five years ago, I think we and pretty much everyone else in our space would assume the idea would begin in print and we would build the digital extension. Today, we realize the idea can really start anywhere and we build a program around an idea. The question we ask ourselves whenever we're developing an idea for any of our partners is will this work across all of our platforms—will it translate to social or in a three-dimensional form with an event? If the answer to any of these is 'No,' we ask ourselves if the idea is really a good enough idea. The market has changed in the way we approach creating strategic and smart ideas for clients."
Since these brands have large social followings, the publishers say, Xbox came to these publications to capitalize on this active audience. Deliverables for the client come in the form of not only page views, unique visitors or the number magazines sold at retail but through the social engagement levels of this campaign.
Brands look for social measurability metrics around things like the large number of shares—whether on Facbeook or through re-tweets, since a reader's whole community of personal followers can then digest this promotional content as well.
"We go all in with a big proposal," adds Frerer-Schmidt. "We do tweak things based on what a client's needs are or what they can afford but we go in with a paging level because there is in-book that needs to be supported here and that's where we've got big numbers. We go in with an online number and for social, there might be a fee here or there for execution but it is an added value element to a degree. It all works together and frankly, we wouldn't recommend any of it alone. We know from experience that we need each element—our print drives our Twitter and Facebook interaction and those things drive our online. Without that circle, one of the connections get missed and you don't have the ROI."
Stay updated on the latest FOLIO: news, follow us on Facebook & Twitter!
Meet the Author
---