In 2015, Mining Media International (MMI) was looking for innovative digital solutions to improve their digital directory products and offerings, which had become in desperate need of an upgrade. They also wanted to make print production easier and current using exports from the digital products.

"Our digital directory and content business wasn't where it needed to be. Basic banners, newsletters, and email blasts were often given as free add-ons to our print sales and buyers guides. We had essentially trained our own customers that digital advertising was low value just when we needed to be finding new streams of revenue to combat the first indications of declining print revenue," David Jones, director of marketing, said.
"B2B print products are still strong in our sectors, but the industries we serve had been facing a long, tough business cycle resulting in shrinking ad budgets and clients that needed to show more results and value for their ad budget."
MMI had already begun the process of better managing and monetizing subscribers by working with a third party subscription management platform. The concept of email marketing to subscribers was a relatively easy sell to both their clients and sales team. What was needed next was a complete digital product suite that could capitalize on this investment and further leverage subscriber data.
The Challenges
●      Clients were hungry for state-of-the-art digital products from B2B publishers
●      A large amount of clients' advertising spend was going to non-traditional digital competitors such as directindustry.com, Google and social media
●      MMI's internal sales team had been reluctant to sell digital products in part because of the learning curve and perceived inferior revenue opportunities
Clearly, MMI needed a new way of delivering digital for both its customers and its sales team.
MMI went to Xposure, a New York City-based shop that had already established a track record of delivering imaginative revenue streams for B2B publishers. Through Xposure, MMI began to explore a new platform they were developing as a combined approach to digital buyers guides and client generated content.
Xposure — as hybrid tech shop and digital marketing agency — is uniquely qualified to deliver a solution that provides publishers with new revenue, advertisers with quality leads, and audiences with valuable content.
After a remarkably short time establishing priorities and key deliverables, MMI was ready to launch "white label" buyers guides and, most recently, their lead-generating Resource Center based on Xposure's FlockXchange directory/content social platform. The FlockXchange Platform delivered the following features for Mining Media: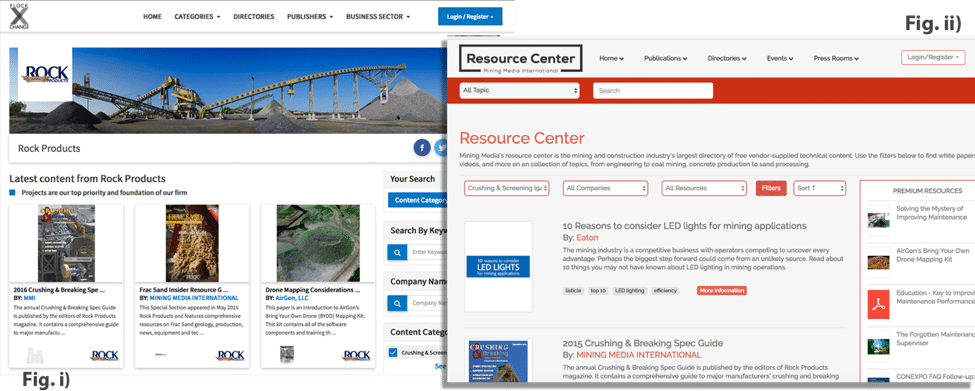 FlockXchange.com exists both as stand alone platform, where each business sector is sponsored by a publisher, and as a 'white labeled' software solution. Publishers can choose either option or a combination.
Fig. i) shows 'Rock Products' as sponsors in the Aggregates' sector. Here, the branded results pages feature the sponsor publication and their customer's content.
Fig. ii) shows http://resources.mining-media.com/, Mining-Media's 'white label' version of the FlockXchange platform. Mining Media received free sponsorship on FlockXchange with their white label license, adding traffic to their customer's content automatically mirrored on FlockXchange.
---
Required Deliverables
●      Substantial new revenue from current advertisers
●      Enticing new prospects and renewed activity for what had previously been shut-out accounts
●      A state-of-the-art, user-friendly, mobile-friendly interface
●      The fastest onboarding on the planet — minimizing the sales team's learning curve and bandwidth
●      Complete subscriber database integration
●      Minimal maintenance and automated delivery of leads to sponsors with full company and contact information, and the exact content they had viewed in an easy-to-download spreadsheet via email
●      User friendly admin and informative activity reports.
"We have been exceptionally pleased with the working relationship we have with the Xposure Team. The level of service is outstanding and their licensing and development rates are very very affordable. We are continually evaluating the platform with our clients and their agencies, adding features and working in partnership with Xposure to create a road map for the product lifecycle that will make the Resource Center the state of the art digital lead generation platform for our clients." Jones enthused.
Immediate benefits for MMI and their customers
●      Capability to offer state-of-the-art, bleeding edge digital product to our clients
●      Increased automation of sales and marketing to and for our clients
●      New revenue stream directly corresponding to our customers' success
●      Integration of access to content via our publication websites and newsletter, making both assets vastly more valuable
●      Products that compete with Google and other non-traditional competitors
●      Advertisers/sponsors receive contact information from prospects and customers including phone/email/title/company, as well as the content and downloads they viewed
●      One-click distribution of posted assets to social media outlets
●      All media types can post: video/PDF/PPT/catalogs/promotions/webinars/audio
●      Industry prospects and customers are subscribers and users targeted to your content
●      Traffic is constant and derived via search, advertising, email marketing, and social media
●      Pay only for actionable leads (CPC)
 "Now, three years in, we are not only very pleased with the software and the revenue it creates, but what is really exciting is that advertisers and their agencies are adopting this product because it delivers tangible results and can be tracked. We are extremely optimistic about what we can offer in the future," Jones added.
"We were behind in our digital offerings, and we didn't want to just catch up — we wanted to lead," Jones said of MMI's aim. FlockXchange offered a highly innovative, user-friendly platform to not only deliver their goal but exceed it!
---
About FlockXchange.com and Xposure
The Xposure portfolio has evolved since 2001 to meet the ever-changing needs of publishers as they've embraced the digital business model, leveraging the web, mobile, big data, eCommerce, and cloud-computing.  For information on how FlockXchange can help your media brand generate revenue, check out the website or contact Stephan Gittings at Sgittings@getxposure.com, or at (212) 625-1738.