The e-reader market is hot right now and more competitors are coming to market. One of them is Copia, a series of e-readers with a focus on "community."
Copia offers two wireless readers called Branded Wave and Tidal, which feature LCD or e-ink displays ranging from five to seven inches depending on the model. All models  come with 2GB of internal memory.
Another Copia reader, the 10.1-inch $299 Ocean Color, is planned.
According to Copia, one of the big selling points is a social networking component at TheCopia.com. Copia e-reader users can log onto the site from their device to share and purchase digital content including magazines and books.  
Copia was first unveiled in January at the Consumer Electronics Show in Las Vegas. The first of its models to be available for retail will be the $99 Wave5, which is expected to launch officially this fall.
Copia is backed by enterprise and consumer tech firm DMC Worldwide.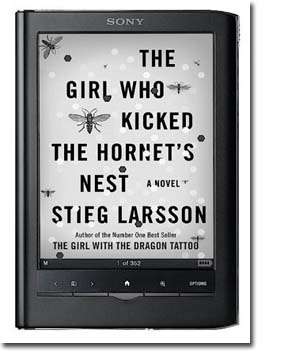 Touch Screens For All
Meanwhile, Sony Corp. today unveiled plans to update its series of Reader devices.  All will now feature optical touch screens and E INK Pearl electronic paper displays. The screens offer 16 layers of grayscale, Sony says, and are readable in direct sunlight. The new screens reportedly utilize an infrared sensor to read finger swipes or taps instead of a special overlay, which can reduce display quality.
The Reader Pocket Edition features a five-inch screen and 2 GB of internal memory. It will be priced at $179—up about $30 from its previous retail price.
The Reader Touch Edition ($229) has a six-inch screen, 2 GB of internal memory with expansion slots for an additional 32 GB of memory and the ability to play MP3 and AAC audio files. The Reader Daily Edition model has a seven-inch screen with wireless connectivity and the same memory set-up as the Reader Touch. It will retail for $299.
Other features across all models include content zoom, adjustable contrast and brightness control and automatic multiple page creation.
Last month, Mountain View, California-based Plastic Logic pulled the plug on its Que ProReader after several delays.
[EDITOR'S NOTE: The copy above about the Copia line of e-readers has been updated. A previous version inadvertently described Copia models that are no longer being offered.]