Just a few Years Ago, many publishers had trouble getting their sales staff to sell digital in addition to print. After all, commissions on print were so much higher, why should a rep take time away from their cash cow to do more work for a lower return?
Today, of course, most salespeople are eager to embrace digital, if for no other reason than to bolster their dwindling print commission. But how to structure a commission rate in the age of multi-media sales? For the last three years, Network Communications, Inc., which publishes local print and online magazines for the real estate market, has introduced new platform initiatives that focus on connecting search engines and social networks with all of its brands. Each one of those new products, according to Adam Japko, senior vice president and president of the home design area, features new content developed around a specific audience.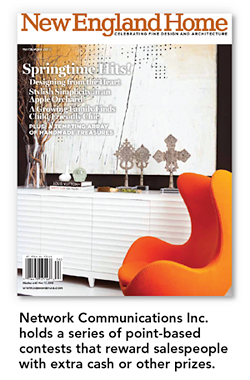 "We've been working with our sales team to not just represent certain publications, but to represent the entire brand and to reach out to our customers, who are small-to-medium sized local businesses that are not able to stay up on sophisticated marketing trends," he says.
To offer some encouragement, the company holds a series of point-based contests where the winners can receive free vacations, prizes or extra cash for having the most sales on a particular campaign. Each campaign is chosen depending on what the company may be introducing at the time, one of the most recent being a turnkey social media solution. The campaigns that are online-based can sometimes be worth more in terms of rewards than the print campaigns.
"All revenue contributes equally to the company, therefore, $1 is $1 in print, as well as social media," Japko says. "But when we're trying to drive new products that are in the online space, we'll do it through contests that have more significant rewards, especially for those that need extra attention. So in that case, $1 could equal $3."
Japko adds that while the company has encouraged its sales team to pay more attention to e-products over the last three years, it's about to move to another phase. "That was the launch and introduction phase," he says. "But we're at a stage now where we're re-training our team to talk with their clients about the marketing footprint. Now it doesn't matter whether the sales are coming from print or online, we're just looking for the highest level of investment. So next year, we'll revise the incentive programs to reward overall selling activity."
Steve Churm, president and CEO of regional publisher Churm Media, says his company has also been focused on "galloping across the digital divide" for the last three years, which has included converting its prints sales force to a multimedia sales force. "Some publishers went out and hired separate digital sales teams, but we didn't take that approach," he says. "It was challenging at first, but the key to success was offering a considerably higher commission rate."
The current commission rate at Churm Media for print is 15 percent, while the rate for Web site, e-newsletter and customized e-blast sales is 22 to 25 percent. While the company has had to reduce print ad rates by as much 40 percent in the past year due to the economic recession, it was able to actually raise digital ad rates. "The demand for digital products continues to increase," he says. "We've found that every dollar we bring in digital equals $2.50 in print."
Changing Mindsets Before Commissions
Recently, another small publisher, Nashville Parent, began addressing the real reason why some sales executives were performing better than others: their reluctance to acknowledge the overall shift in the industry. "We had a meeting about it today," says president Stewart Day. "We discussed how things are changing so quickly that our salespeople aren't even aware of it. You can offer them all the incentives in the world, but if you don't update them and refresh them, it won't even matter."
One of the biggest game changers for ad sales, according to Day, is social media. More  companies are embracing Facebook and Twitter and are not only building communities by themselves, but nurturing them as well. "Long ago, you were just able to send out a rate card, but now clients are saying that they're already meeting the consumers that they need to meet on Twitter," he says. "So they're asking why they need us. Nowadays, you have to use a bull's eye approach to niche marketing."
The bull's eye approach for Nashville Parent is what Day refers to as "360-degree marketing," which means encouraging advertisers to embrace traditional, online, social media and anything else that makes sense for the company. "It's a very new concept for most publishers, but we've been spending a lot of time helping our sales teams and our clients get into it," Day says. "With our events, we don't just use Facebook and Twitter to announce that it's a Nashville Parent event. We'll also tout who's sponsoring the event and we encourage our advertisers to do the same. If we find fan groups associated with one of our sponsors on Facebook, we'll join that group."
Once the sales team understands what is expected of them, only then can incentives have any effect on performance. "You can't just say, 'You'll get an incentive if you get this and this and this,'" Day says. "Incentives don't change mindsets. What does is understanding why certain products sell and how things are changing. That's where I'm putting all of the emphasis."

SIDEBAR
Sales Training and Evaluation
To encourage their account executives to adapt a broader approach to their sales efforts, publishers have been reworking their commission programs and offering additional incentives. But before even addressing how much more commission account execs should get for selling digital packages, publishers have also had to address the reason for the backlash in the first place.
"I think the #1 obstacle that my team has dealt with is a lack of knowledge," says Steve Churm, president/CEO, Churm Media, which publishes hyperlocal publications such as OC Metro. "This is an area where there's so much information to learn, and there's a lot of confusion about terminology, analytics and effectiveness. I think the biggest challenge is to getting our account executives ahead of the knowledge curve so that they're either equal or ahead of our clients and prospects."
To equip its team with better knowledge of all things digital, Churm Media holds a "Digital Academy" luncheon once a month where the managers discuss topics that are solely focused on digital ad sales. "We're trying to change the culture from being print-centric to multimedia centric," Churm says. "And so far, it's been effective. We've often seen spikes in digital ad sales right after having one of these meetings. It gives the team a heightened awareness and confidence."
Nashville Parent uses a SWOT analysis approach to evaluate its sales team's performance. President Steve Day discusses with each member his or her strengths, weaknesses, opportunities and threats to determine how effective they are in digital sales. "Until they understand the relationship between success and opportunities, and that they can be threatened by change, they won't change," he says.