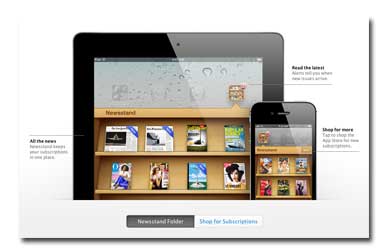 The highly anticipated launch of Apple's new iOS 5 is now here and with the new functionality comes new features–including one that publishers may find particularly valuable.
The new platform integrates with an iPhone, iPod touch or iPad a Newsstand feature on a user's home screen. There, a new folder lets readers access magazines and newspapers quickly and when new issues become available, the Newsstand automatically updates users that it is accessible.
"It's kind of like having the paper delivered to your front door. Only better," the company's Web site says.
Within Apple's App Store there is also a Newsstand section for purchasing single copies and subscriptions-when a user buys an edition to a title, the home screen's Newsstand updates automatically with the new content.
Individuals can browse the Newsstand for publications, search for titles and view ratings. While the move seems to make it easier for readers, some bugs may still need to be worked out.
"The latest update has removed the app from my synch list so each time I try to synch up my iPad it asks me if I want to remove Wired from my device," writes user Jeffrey Clark on the iTunes browser enabled page for Wired magazine. "When I click no it stops the update. I've gone through the list several times to see where it might be but it isn't anywhere to be found. Keeping me from installing new apps as long as I want to be able to read the magazines. Needs to be fixed!"
When viewing the Newsstand in iTunes, some featured titles include Wired, The New York Times, National Geographic Magazine, The Daily and Reader's Digest. Bonnier, always an early adopter with almost everything app-related, says Popular Science, Popular Photgraphy and Sound + Vision are available on the iOS 5 newsstand as well.
Rodale will make its big brands–Men's Health, Women's Health, Prevention and Runner's World–available on the newsstand and is also introducing a subscription plan offering free access to digital issues for those readers with a print subscription.