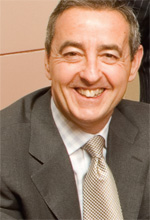 The majority of our events have rebounded, as development and travel budgets have loosened. We expect this trend to continue to drive performance in 2001, aided by organizational changes and staff additions that we have made.
We are helping operating teams find paths to grow in an unsettled business and economic environment, and to maintain morale throughout.
We are changing our emphasis from being "a media company with events" to "an events company with media." While we are by no means moving away from or abandoning media, we are focusing resources on what we believe to be higher growth areas, notably events. We have articulated this clearly internally and are aligning our systems and human resources accordingly.
I believe we still play a pivotal, vital role in providing a credible and reliable home for all voices—experts, users and vendors. I think that facilitating this mix is the secret to continued success in a changing world.
Desiree Rogers, CEO, Johnson Publishing
Charles H. Townsend, CEO, Condé Nast
Henry Blodget, editor-in-chief and CEO, Business Insider
Don Pazour, CEO, Access Intelligence
Brian Rowland, president, Rowland Publishing

Greg Loewen, president, Emmis Publishing

Peter Johnson, CEO, Mining Media International

Ed Gillette, president and CEO, Scranton Gillette Communications
Bill Holiber, CEO, U.S. News & World Report and New York Daily News