The Need to 'Slice, Dice' Online Content

A case for the Agile Content Network.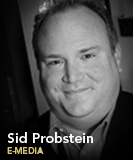 For decades there were three major TV networks that tried to be all things to all people. A few new networks appeared in the 1980s. One (FOX) focused on terrestrial broadcasting, but most (like CNN and MTV) were part of the cable TV revolution. In the 1990s, as cable became more available and increased the number of available channels, many more appeared—most focused on specific topics.
The emergence of the Internet accelerated the pace of new channel creation. New networks sprang up almost overnight. Going direct to the consumer became a concrete possibility for content producers. As consumers, we reap the benefit on a daily basis: endless choice and lower prices.
But there is a darker side to this equation. Traditional media companies—broadcasters and print publishers— have to adapt to this new environment.
Simply moving online may or may not ensure survival—let alone profitability. The key is to re-invent the business such that the advantages once enjoyed become advantages that can once again be exploited. Every large publisher or broadcaster has two key advantages: quality and breadth. Bringing these to bear against many small competitors can be hard. The cost of creating new channels—cable, terrestrial or online—remains relatively high for most large organizations.
Building a Network of Content
In the early use of the Internet, individual publications and channels took the first steps, creating Web sites that complemented or supplemented their traditional model. Each was built separately, probably using different technologies. How does a broadcaster with 500 shows end up with 50 Web sites?  It's simple—the most popular programs build their own Web sites.
The cost to build each site using the same approach as the previous 50 they built will be prohibitive. So they won't build out the vast number of channels their content might support, and consumers will look elsewhere.
Beyond the basic "onlining" of existing channels comes the creation of wholly new ones. We have seen remarkable changes in the world in the past year. How will a traditional publisher, with limited ability to create new channels at low cost, bring its breadth and quality to bear on a major celebrity crisis?  How will traditional publishers compete with fully personalized models— like iGoogle and MyYahoo!—where each customer effectively creates their own "channel"?
The answer is that many of them won't. Smaller, more agile players will provide the content, or the lens through which to view it—and profit handsomely.
Traditional publishers need to set themselves up so that all of their content can be sliced, diced and delivered in any way imaginable—with minimal effort and at low cost.
They need to build an Agile Content Network (ACN) that enables them to bring their quality and breadth of content to bear through this implementation.
An ACN has the following components:
• A logical index of all content available to the network (ideally all titles/channels)
• A content management system (CMS) integrated with the index, and capable of rapidly creating new channels by selecting a template
• Back-end capabilities (such as ad-serving, authentication, personalization, recommendations,  threaded discussions) that are functionally integrated into the channel by the CMS templates
The ACN process can be simplified by taking an existing content delivery system and gradually migrating other sources and back-ends to it. 
Internal Versus External Data
You may need to add a unified information access (UIA) solution to your existing stack that will allow you to query the (typically unstructured) content and related structured information such as subscription or permission data, rights information, popularity metrics, etc. The search engine built into the average CMS is intended to deal with the internal silo of data—the CMS' own—and not external data.
The competition is not going away; it is going to get worse. Publishers that implement ACNs will adapt and survive … and survival is indeed the question.
Sid Probstein is Chief Technology Officer at Attivio, responsible for technology strategy and innovation. Sid brings to Attivio more than 15 years experience leading successful engineering organizations and building complex, high-performance systems. Previously, he was CTO at
GCi, where he headed up development of the company's next generation commerce platform.
 
Meet the Author
---