Need's 'Screw the Man,' 'Who Cares?' Campaigns Provide Revenue Jolt

Despite nearly 900% sales boost, title secured only 'a fraction' of subs needed.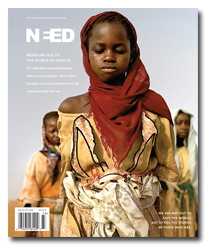 Minneapolis, Minnesota-based "humanitarian" magazine Need has seen some positive results from its ScrewTheMan, SaveTheWorld and Who Cares? subscription campaigns. So far—through the June, July and August period—the magazine has seen subscription revenue jump nearly 900 percent from the same period last year.
"This has been amazing considering it is summer which is normally bad and we have not had a magazine out since early February," editor-in-chief Stephanie Kinnunen told FOLIO:.
Usually carrying a quarterly frequency, Need hopes to print its next edition by mid- to late-November.
In addition to the subscription campaigns, Need attributes the revenue spike to a pair of sponsored meet-and-greet events with magazine staff and two topical speaking events featuring Need contributors and members of local organizations. Need also is planning Street Music for Street Kids concert later this month and a "Your Powers for Good" events series.
"The idea behind the events was to not only promote Need but to accomplish it through furthering our end mission of assisting humanitarian organizations and those in need,"  founder and executive director Kelly Kinnunen said.
Need launched the ScrewTheMan, SaveTheWorld intiative—which was inspired by Paste's Save Paste campaign—in an effort to generate 25,000 new subscribers, which would more than double Need's current circulation of 19,000. If successful, Need said it would eliminate all commercial advertising
for one year and replace the allocated advertising pages with stories
of how readers are involved in saving the world.
The Who Cares? campaign is intended to drive bulk subscription orders. "The average single order sale is up by $12 from last quarter, so each person is ordering more," Stephanie Kinnunen said.
Despite the revenue boost, though, she said the magazine has secured only "a fraction" of the new subscriptions needed to meet its ambitious goal.
Meet the Author
---