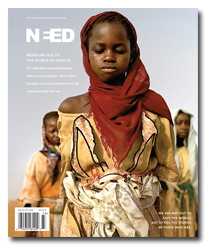 Need, the Minneapolis, Minnesota-based "humanitarian" quarterly is set to close at the end of January unless its founders manage to get a cash infusion—fast.
"We have not been able to raise the money needed to continue through subscriptions, advertising sponsors and/or investors," founder and executive director Kelly Kinnunen wrote in an e-mail to FOLIO:. "We have not been able to pay anyone for the last three weeks."
Like so many other magazines, Need began to struggle earlier this year amidst the advertising downturn. This summer, the magazine launched a pair of subscription campaigns—called "ScrewTheMan, SaveTheWorld," and "Who Cares?"—in an effort to stay in business. The magazine said it wanted to muster up 25,000 new subscribers, which at the time would more than double its circulation of 19,000.
If successful, Need said it would "eliminate all commercial advertising for one year (thus screwing the man) and replace the allocated advertising pages with stories of how readers are involved in saving the world."
Need saw some positive response initially, as subscription revenue jumped nearly 900 percent through June, July and August. But despite the revenue boost, Need editor-in-chief Stephanie Kinnunen told FOLIO: in August that the campaigns to that point had secured only "a fraction" of the new subscriptions needed to meet its ambitious goal.
Kelly Kinnunen said he and Stephanie (his wife) "invested everything we had personally" in order to keep Need afloat. Despite the dour outlook, he said he remains hopeful that the magazine's luck could change.
"We are not discounting the possibility of a miracle happening," Kinnunen said.
Besides Kelly and Stephanie Kinnunen, Need employs four other staffers.