Need to Increase Yield? Try Mobile Games

AMI integrates mobile gaming with content to drive engagement and revenue.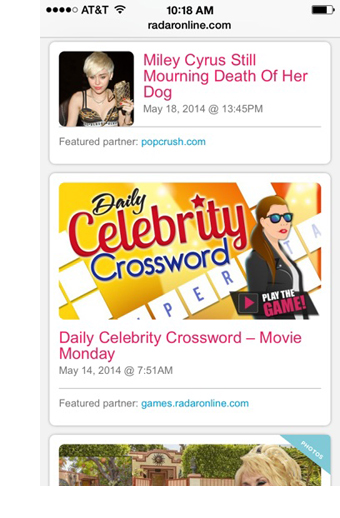 Leave it to publishers to leave no stone unturned when looking for new ways to drive more ad revenue and user engagement, especially in mobile. As consumers flock to the platform, publishers are employing more tactics to not only keep them there longer, but leverage that time spent into more revenue.
American Media Inc. has been experimenting with mobile games on RadarOnline.com. The celebrity news site has a dedicated gaming section and is also pulling some of the games over into its newsfeed. "As a publisher, we're always looking for ways to increase the yield that we can bring to bear on any of our properties," says Joe Bilman, chief digital officer and global head of business development at AMI.
AMI is working with gaming platform TreSensa to provide the games, which means the company is getting more inventory and engagement with very little work on its part. "We're able to use limited real estate to drive consumer interest and adoption," says Bilman. "From our perspective, it's minimal work and effort."
Bilman says it's one of his highest-yielding partnerships. "At an effective CPM, it's been very profitable for us."
Right now, RadarOnline.com provides a gaming experience in two places, a dedicated hub and occasionally integrated directly into the newsfeed. The tap-and-play games sometimes match with Radar's content, but not always. TreSensa helped the site select games from its library of 200 based on audience interests.
Monetization happens two ways. Games have inventory between levels and after the game is over. But a potentially more lucrative model is building games around branded content—games that are meant to promote a specific product. Those are monetized on a cost-per-engagement model.
"There are opportunities emerging for much higher payouts for our publishers and it's because consumer brands are very eager to engage with users on mobile," says Rob Grossberg, CEO of TreSensa. "Branded games are starting to take off."
Inter-level inventory is served up by Google AdX, earning a $2-$4 eCPM, with 2-3 ad units per game play. But on the branded games, publisher payouts are anywhere from 5 to 15 cents, with the payment point kicking in at 60 seconds. Average play time is 3-10 minutes, says Grossberg.
Meet the Author
---