Neal Vitale Stepping Down as 1105 CEO

Board member Jeffrey Klein expanding role and leading search for replacement.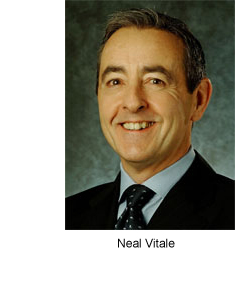 1105 Media announced this morning that CEO Neal Vitale plans to resign "before year-end," but an informal target date is set for November 1. The company is currently searching for his replacement.
1105 Media is a B2B media company serving the education, public sector, security and public health markets, among others.
According to the statement, Vitale, who is also the 2013-2014 chair of ABM, is stepping down "to move on to other challenges."
Vitale, who notified employees of his plans yesterday in a company memo, tells FOLIO: via email that there's been some external interest in his talents.
"I have been approached over the last few months about some interesting involvements and activities outside of 1105," he says. "As I discussed those opportunities with my Board, the conversation evolved into this decision for me to move on. I am targeting the 1st of November, but neither side is too terribly focused on an exact date. Timing will depend on the direction the Board takes in recruiting a successor."
 
In the meantime, 1105 board member Jeffrey Klein is expanding his role to executive chairman and will lead the search for Vitale's replacement.
Klein was the CEO of 101communications, which Vitale bought in 2006, along with Stevens Publishing, after forming 1105 Media with backing from Nautic Partners and Alta Communications.
Vitale had quickly built up 1105 Media to a $110 million company by the end of 2006. More recently, it's been making moves to reorganize brands. In April, it combined its public sector brands serving federal employees.
The company's current revenue is in the "high eight figures," says Vitale.
Meet the Author
---