NCI Suspends Accent Home & Garden

Subscribers of regional magazines to receive sister title instead.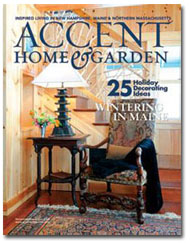 Lawrenceville, Georgia-based Network Communications Inc. has suspended publication of Accent Home & Garden magazine.
NCI said it will replace Accent Home & Garden subscriptions with sister publication New England Home magazine, starting with its November/December issue. Both magazines serve the northern New England regional market.
Five layoffs were associated with the closing, Adam Japko, president of NCI's home design business operations,  told FOLIO:.
"When New England Home launched (in 2005), we recognized that like most other regions around the country, New England's consumers and home design marketers could be served most efficiently by one regional title," Japko said.
NCI said New England Home sales staff will work with Accent Home & Garden's advertisers to provide them with continuity programs to make the transition to New England Home.
Accent Home & Garden carried a bi-monthly circulation of 25,000. New England Home, also a bi-monthly, has a circulation of 60,000.
NCI also publishes Apartment Finder and Mature Living Choices.
Meet the Author
---