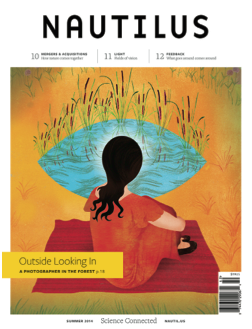 It didn't take long for John Steele to fill the top of his desk with trophies after Nautilus' 2013 spring launch. Still, the publisher and editorial director says as gratifying as those "bucket full of awards are," it's the brand's growth and recognition from the science community that validates its existence.
Nautilus isn't your typical science magazine; in fact, it's not really your typical magazine. It bills its content as literary science, and its mission is to unravel a single topic each issue while intertwining culture and philosophy into the story. A quarterly print magazine ties everything together, but between print its website rolls out a new chapter in the story each week. Nothing is out of scope when it comes to crafting the bigger tale. It borrows from pop culture, fiction, reader essays and blogs, really whatever it takes to make the narrative whole.
Nautilus is swinging for the fences when it comes to developing its content niche. But in fairness, the magazine doesn't need to worry about finances yet because it secured a 3-year grant from the John Templeton Foundation to launch. So, in essence, the magazine gets a 3-year head start to get everything just right before the weight of profitability begins to bear down.
"We haven't had to go there," Steele says. "We're just now starting to look at the ad market and everything else. The luxury we've had is that we've been able to publish, focus on the audience and not have to worry about the revenue."
The publishing side of things seems to be working out, judging by the awards and positive earned media. But equally impressive is audience growth, which will eventually determine revenue potential.
In its first year the website attracted 4.3 million visitors, with 2.9 million unique visitors. And those unique visitors are looking around. Steele says that more than 6 million pages have been viewed and traffic is accelerating month over month. In fact, from April to May the site counted around 650,000 visits.
"It's growing a lot," Steele says. "I expect within a few months we will be averaging 1 million [visitors] a month."
The magazine does have a marketing budget to work with, but Steele believes that his efforts to elevate the brand through traditional channels like advertising haven't paid off. Instead he insists that earned media and social media have been chiefly responsible for spreading the word.
"I'm disappointed in some of our traditional advertising efforts, he says. I might be spoiled by analytics now and traditional areas are hard to gage impact. By far the best thing you can do is editorial. You need to get people to talk about you and write about you."
In two years Nautilus' grant will expire, but Steele is confident they will be ready. He and his team are exploring several paid models and integrated packages they can offer advertisers. Plus the brand is looking into the education space, a space content can integrate seamlessly.